What to Pack For Europe - What to Wear On a Mediterranean Cruise
"What to pack for Europe and wear on a cruise ship, how to choose European cruise wear; answering the question: Mediterranean cruise - what to wear?"
Even many seasoned cruisers get confused about what to pack for Europe cruise, let alone someone cruising for the first time. So let's try and answer this eternal question: Mediterranean cruise – what to wear?

---
1. What to Pack for Europe - Plan Your Activities
As you think of your upcoming Mediterranean cruise, there's pictures of you swirling in your head: you see yourself eating in an elegant dining room of your luxury Europe cruise ship, enjoying the Broadway style shows in the lavishly decorated ship theatre, dancing at the Captain's reception party on a formal night, climbing the rock-wall on the open deck or having a massage in the spa!
And doing this, you're on the right track when it comes planning what to pack for Europe! You need to think of all the activities you will be doing during your cruise!
Now, that you've thought of all the activities you will be doing onboard your Mediterranean cruise ships and you're starting to get an idea of what to wear on a cruise ship, it's time to think of all the activities you will be doing off the ship.
If you already have an idea of the shore excursions you will be taking, it won't be hard to think of what to pack for Europe… will you be climbing Mt. Vesuvius or do you prefer to sit on the Capri Piazzetta and sip on your espresso surrounded with shopping bags?
Will you be exploring the dusty Ephesus or do you prefer to spend the day in one of the air-conditioned rug stores in Kusadasi, Turkey choosing that perfect silk rug?
Having an overnight in Venice? Will you be visiting one of the famous Opera houses, have a romantic gondola ride at sunset, or perhaps you prefer to sit in some little osteria with the locals?
What about the Greek islands… will you be lounging away on one of the Mykonos beaches or shopping for that 22kt gold Greek key necklace in the shade of one of the gorgeous gold shops?
Now, you have a clearer picture of the activities you will be doing in the ports of call. But let us remind you of the remaining factors you have to think about when thinking of your European cruise wear: your air travel and stay in a hotel, if you'll be spending some time in Europe before of after your cruise.
For more ideas on items and accessories you could possibly need throughout all the phases of your travel and what to pack for Europe, make sure you check our article Cruise Packing.
---
2. Your Europe Packing List - Think of the Time of Year and Weather in Europe
When you're packing for a cruise vacation to the Caribbean or Mexico, it's a no-brainer. There, it's generally hot all year round, so you can't go wrong: you pack a few tank-tops, bathing suits, shorts, flip-flops, pareos and hats and you're done.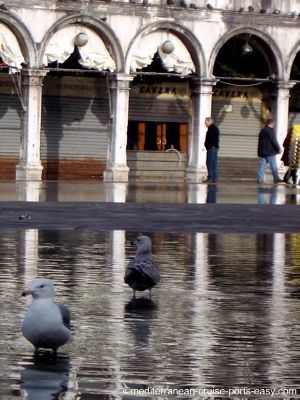 When it comes to packing for a Mediterranean cruise and thinking what to pack for Europe, you'll need to think carefully about what season of the year it is in Europe at the time of your visit.
So let's give you an idea of what to pack for Europe considering the different seasons:
Most people will be cruising the Mediterranean in June, July, August and early September. For most of the world that's the time of school vacations and when most people can take leave from work. In Europe, those months are summer months, the weather is hot, sometimes humid, and rains are not that likely.
These are the only months when you can pack things you would normally pack for a Caribbean cruise.
But beware, Europeans are famous for their stylishness and you will be sticking out like a sore thumb if you wear those clothes anywhere else but on a beach or by the pool. So when you think ports and shore excursions, think light but stylish.
Some of the most excruciatingly hot places you could be visiting during your Mediterranean cruise are Athens Acropolis Greece, Ephesus by Kusadasi, Turkey and visiting the Pyramids of Giza, Cairo.
When visiting these places think white and light!
For more tips on what to wear for visiting Athens Acropolis read our article on Athens Weather
However, even in summer, always have a few tops with long sleeves and a pair of long pants. It can get a bit chilly on the outer decks in the evening, especially in June and September.
Also, those early morning shore excursions can always surprise you with a little bit of a chill in the air.
Many ships' air conditioning can be set to low temperatures too, and you don't want to be freezing while sitting in a lounge trying to listen to your Murano glass or Turkish rugs seminars.
Important, when cruising the Mediterranean in summer, do not forget your…
Packing your European cruise wear for April, May or late September and October will greatly depend on your itinerary.
If your ship will be visiting more southern parts of the Med like Athens, Greek islands, Egypt and Turkey, it's very likely you will be enjoying warm weather but should you be visiting places like Spain, Italy and Croatia warmer clothes are a must.
So, in addition to your summery clothes, don't forget to pack…
When cruising the Mediterranean from December to February, this is already wintertime in Europe and you should be packing some…
However, again, if your ship will be headed further down south, you will need lighter clothes too!
---
3. What to Pack for Europe - Think of European Style
Europeans are famous for their stylishness. If this is your first time travel to Europe, you'll know exactly what we're talking about when you land at any airport in Italy or Spain.
Italy is like a homeland of style and fashion, and one thing you will not want when cruising to Italy, or the Mediterranean in general, is for your clothes to give away you're a tourist.
Although, in summer, temperatures in the south of Europe can easily compare to those in the Caribbean, you will never see anyone walking around in shorts or tank-tops. Except for maybe young teenage girls or people on the beach.
So although you will, especially if you're taking a summer cruise to the Mediterranean, pack everything you would normally pack to the Caribbean or Mexico, we suggest you only wear those clothes to the beach or by the ship pool.
While in the Caribbean, no one is going to beat an eyelid at what you wear even when you enter a luxurious diamond and watch store.
In Europe you will be glad you're dressed respectfully when you go shopping for your Florentine gold or a Swiss watch. Especially if you had to ring the doorbell for them to buzz you into the store.
Even when you get on a Mediterranean shore excursion bus, you will realize that the more experienced cruisers never wear shorts, tank tops, washed out t-shirts or flip-flops or sneakers.
They would have replaced those with...
If you're really fond of your Hawaii shirt… enjoy it on a Hawaii cruise or the Caribbean. In Europe it just doesn't work.
Neither do Indiana Jones style khakis with sloppily hanging pockets, vests with pockets or Safari hats. Remember, most of the European monuments have already been discovered a long time ago, and if not… it's up to the archaeologists to keep digging them up. So thank them for that and enjoy your day in Mediterranean cruise ports wearing some more civilized clothes! ;)
When visiting the Pyramids of Giza, in Cairo Egypt, yes, it's going to be dusty, sweaty and sticky but remember, most tours to Cairo include either visiting a mosque or an archaeological museum, so you want to look decent there too.
However, if you're headed for a camel ride or a 4X4 ride in the desert, that's a different story… now you can let your Indiana Jones spirit take over!
---
4. What to Pack for Europe - Think of Your Electric Appliances
Today, it's difficult to imagine travelling without our electrical appliances…laptops, cell-phones, hairdryers or shaving machines. So you must be wondering if you will be able to use or charge those during your Mediterranean cruise vacation or what to pack for Europe to make it possible for your to use them.
If you are from the US and you are flying straight from home to the cruise ship, you most probably won't have any problems with your electric appliances.
You'll be happy to know that most cruise ships usually have the same 110 volt system used in the US and outlets that accept the two-pin plug.
European cruise ships will have the 220 volt electric systems with two round-pin plugs but most of them will also have the 110 volt system and plugs too.
If not, you will need a transformer..
Sometimes, even if there is a 110 volt system on the ship, it could still have the European-style outlets and in that case you will need a plug adapter.
Sometimes these are available for purchase in the shops onboard. However, if you can't wait for the shops to open (remember, they only open half an hour after the ship has actually sailed out of port), or you will be staying in a hotel before you embark the cruise ship, it's better to bring your own!
Hope these tips help you resolve the eternal question of What to pack for Europe?

RELATED ARTICLES:
Home

>

Cruise Venice

> Venice Honeymoon