Where to Stay in Rome Before
or After Your Cruise
I'm sure you have many criteria to take into consideration when picking where to stay in Rome before or after your cruise. But make the proximity of the major famous places in Rome be the top criteria when staying here for 3 to 5 nights.

If you've already read our introduction to Rome, you'll remember that my husband and I visited Rome on our honeymoon in October 2019. Luckily, the north of Croatia, where we're from is not too far from it, just a few hour flight over the Adriatic sea.

My husband has never been to Rome so I thought: 'oh, great, I know the ancient city well enough, let me show him around, it's a piece of cake!'
To make the long story short: back in those days Rome seemed very walkable as I always walked down one and the same route and managed to see some sights along the way while doing business. The emphasis is on some...and that was enough for someone visiting for a day.
Fast forward to 2019: I was the one who picked where to stay in Rome, and trying to save some money I picked a location in a typical residential area just outside the centre of Rome city centre.
On the map it was just about 10 metro stops from the major attractions in Rome, Italy. And two changes of metro lines. And 10 minutes walking between the platforms. And 5-10 minutes waiting for the next train. And a lot of walking between all the attractions we wanted to see and Airbnb experiences we wanted to participate in. And there was no metro nowhere near them. It all added up…and wore us down.

So, dear cruisers, my tip is: when picking where to stay in Rome, don't be sorry to pay a bit more for accomodation close to all the things to see in Rome.

---
Picking where to stay in Rome: which Rome neighbourhoods offer Rome accomodation close to Rome attractions?
Here's a few ones to check out when looking for places to stay on Booking.com:

Rome City Centre – what is actually considered Rome Centro Storico? This section of Rome is the very heart of the Eternal city: filled with narrow cobblestone streets, classical and Baroque architecture and charming piazzas. This is where the majority of all the most famous places to see in Rome are located. Pick this option as a Booking.com filter if you want to cover hotels, B&Bs and apartments if you don't have preferences for being closer to any specific sight or attraction. Find out what the best picks are in Centro Storico right here...
 If you want to narrow down your search, pick one of the following options in Centro storico:
1. Navona – this is the area around the famous Piazza Navona, a very lively central area, perfect for seeing Rome attractions.
This is where you will find best restaurants in Rome, enjoy Rome at night, watch the street performers and all the buzz of the historical Centro Storico of Rome.
Here, you will be just a few steps away from the Pantheon and the Spanish Steps.
This is also the filter you will pick if looking for a place in Campo de Fiori, a charming area with a flower, fruit and vegetable market during the day and a buzzing place full of bars, cocktail bars and restaurants at night. Find the most attractive hotels and apartments in Navona area...
2. Spagna area or the Spanish steps – Staying closer to the Spanish Steps, you will be closer to the Piazza Popolo and Villa Borghese. It is about 2km away from the Colosseum and about 3.8 km road distance from the Vatican. See best places to stay near Spanish steps...
3. Via Veneto area – This area is one of the most upscale areas of Rome, classy and perfect for some luxury shopping. This is where you will find luxury hotels and rub shoulders with Roman VIP's and celebrities. Staying in the Via Veneto area you will be closer to the Pantheon, Trevi Fountain and the rest of the Centro Storico. It is about five km away from the Vatican via Vittorio Emanuelle. Find hotels and apartments close to via Veneto...
4. Pantheon – this also, is a very desirable area when it comes to where to stay in Rome. It is the area around the Roman Pantheon, one of the best preserved buildings of the ancient Rome. Busy with tourists but maybe not as hectic as the Piazza Spagna and Navona area. Of course, it is a walking distance from many restaurants, shopping and sites. You will be about 2km away from the Vatican. Find the best accomodation near Pantheon...
5. Trevi – the area around one of the most famous attractions of Rome, the Trevi fountain. We all know it from Fellini's La Dolce Vita, with Anita Ekberg taking a bath in it. Today, it is very difficult not just to take a selfie near it but even walk into the square where it's located. It feels like being one of the spectators at the Roma-Lazio football game. So be prepared for the hordes of people at all times of day here. Still, the location is great, 10 to 15 minutes from many attractions. Check all the most attractive places to stay by Trevi fountain...
---
Where to stay in Rome: close to Centro Storico but without crowds
Still wondering where to stay in Rome? There are also a few neighbourhoods close enough to the Centro Storico, letting you experience the real Rome, vibrant and full of amenities but not swarmed by tourists:
1. Vaticano Prati – this area is very close to St. Peter's cathedral and will be the right choice for you if you want to focus your visit on the Vatican area. It is quite a hike to the Centro Historico but the advantage is you won't be surrounded by hordes of tourists but real Romans going about their everyday life. It is a clean, quiet and safe area. See places to stay near Vatican museums...
2. Rione Monti is a neighbourhood with lots of charm and character, just north from the Colosseo, a stone's throw from the Roman forum but almost untouched by tourim, a real authentic Roman city area.
It is walkable to most places of interest while it has lots of great restaurants and bars to enjoy in the evening. See where to stay in Rione Monti...
3. Trastevere – for many, this is 'the best' neighbourhood in Rome as it is very genuine, a place to see real Roman life.
Narrow streets, graffiti art and little shops with character make it quite a bohemian and artistic area.
Due to the fact many Universities are located there, it is also a center of nightlife. Here you will be about 3km away both from the Spanish steps and Vatican. Find the best trastevere hotels and apartments here...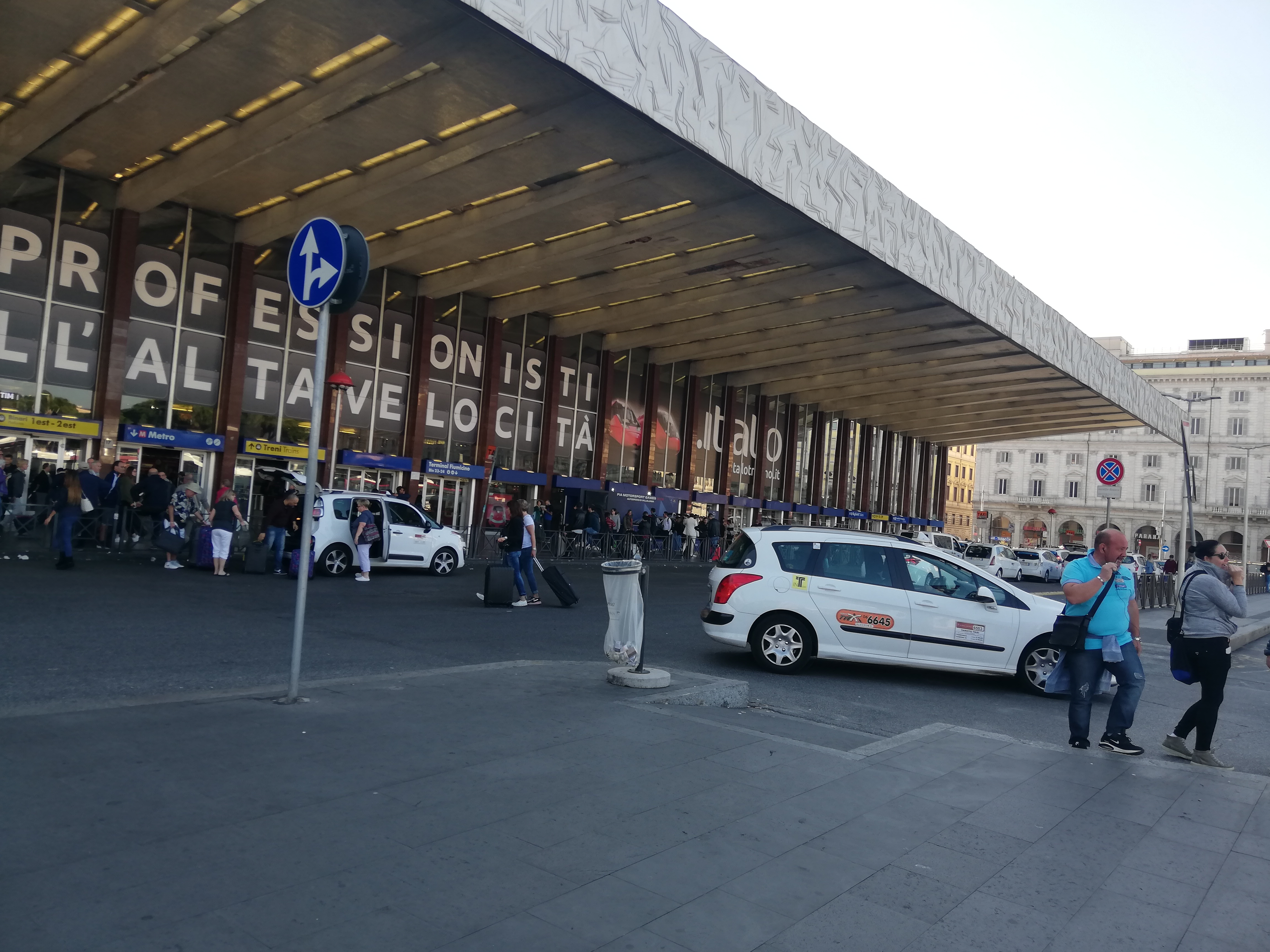 Termini station in Rome
4. Central Station is actually the famous Termini station.When visiting Rome Italy, it is very likely you will pass through the Termini central station. It is actually the endpoint of both Leonardo express trains and the shuttle buses connect the Fiumicino airport to Rome city centre.

Here you can catch metro to other neighbouhoods as the two city lines converge here.
If you decide to stay here, you will be in the  neighbourhood of the National Roman Museum or the Baths of Diocletian.
However, this area is not within a walking distance to many of the sites, i.e. it is distanced more than one mile from them: it would take you about a mile to the Colosseum but 2.5 miles to the Vatican city. Not very picturesque but safe and convenient for those who use public transportation, Termini station is still frequently picked as where to stay in Rome. Find your favourite place to stay in Rome Termini here.
Hope you find this little guide to where to stay in Rome helpful. Of course, once you decide on the location best for you, use other filters to narrow down the best Rome accomodation for you.
Have A Great Story About This Topic?
Do you have a great story about this? Have you been to this port of call? Have tried out any of the shore excursions I recommend? Do you have any tips that might help your fellow cruisers? Share them with us!