Cruisers' tips for visiting Athens Acropolis Greece
"Athens Acropolis Greece - For many people visiting Athens is a once in a lifetime affair and seeing one of the most magnificent places ever built in the world is an absolute must... "
It is only natural all the cruisers are rushing to see Athens Acropolis. For many people visiting Athens is a once in a lifetime affair and seeing one of the most magnificent places ever built in the world is an absolute must.
But to really enjoy visiting Athens Acropolis Greece we have compiled a few tips that might help you have everything running smoothly.
What to keep in mind when visiting Athens Acropolis, Greece
1. PLAN YOUR TRANSPORTATION – There are many ways you can get from port of Piraeus to Athens Acropolis. Taking one of the organized tours is just one of the options, you can find out about all the others in our article Athens transport.

Do not leave planning your transportation to the last minute or be discouraged by the fact your cruise ship is about 30 minutes drive from the most impressive of Athens Greece attractions.
Taking one of the taxis in front of the cruise terminal is a recipe for being ripped off, so please check one of the options below:
2. GET THERE EARLY: if you decide to take a taxi, a private tour to Acropolis or take a metro Athens train from Piraeus to Athens, you have one big advantage before those on the organized shore excursions.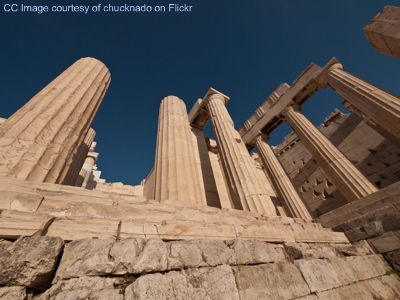 Namely, you can get there before everyone else, first thing in the morning when the site opens for visitors and avoid the crowds that certainly don't add to the magic of visiting such a place. Preferably, be there before 9 o'clock!
3. HAVE A BOTTLE OF WATER, A HAT AND SUNSCREEN – especially if you cannot choose the time of the visit. In summer, Athens weather and temperatures can be excruciating. Make sure you protect yourself.
4. WEAR FLAT, RUBBER SOLE, CLOSED SHOES - the marble pavement is exceptionally slippery and you don't want to break your leg this far from home!
Important information: Athens Acropolis Greece is accessible to physically disabled people- the lift is vehicle and wheelchair accessible via an entrance just North of the main entrance to the Acropolis. If you need handicap accessibility, you should call 210 3214172-3 for information and to find out if the lift is operational, ahead of your visit.
---
Athens Acropolis Greece opening hours and admission/entrance fees
Summer: (01/04-31/10)
08:00 – 19:30 daily
Monday 11:00 – 19:30
Winter: (01/11 – 31/03)
08:30 – 15:00 daily
Admission: 20 euros
Reduced admission: 10 euros
Free admission:
6 March (in memory of Melina Mercouri)

5 June (International Enviroment Day)

18 April (International Monuments Day)

18 May (International Museums Day)

The last weekend of September annually (European Heritage Days)

Sundays in the period between 1 November and 31 March

National Holidays

The first Sunday of every month, except for July, August and September (when the first Sunday is holiday, then the second is the free admission day.)

27 September, International Tourism Day
Closed:
1 January: closed

6 January: 08.30-15.00

Shrove Monday: 08.30-15.00

25 March: close

Good Friday: until 12:00 closed

Holy Saturday: 08.30-15.00

1 May: closed

Easter Sunday: closed

Easter Monday: 08.30-15.00

Holy Spirit Day: 08.30-15.00

28 October: 08.30-15.00

25 December: closed

26 December: closed
Ticket includes admission to the Acropolis, Acropolis of Athens, Ancient Agora of Athens, Archaeological Museum of Kerameikos, Archaeological Site of Lykeion, Hadrian's Library, Kerameikos, Museum of the Ancient Agora, North slope of Acropolis, Olympieio, Roman Agora of Athens, South Slope of Acropolis.
TIP: After visiting Athens Acropolis Greece you may be hoarded into little souvenir shops near the parking lot by your tour guides. Shop here if you are headed straight back to the ship. If you will be visiting the Athens Plaka, which is highly suggested, do your shopping there, it's cheaper!

For more info on visiting Acropolis Greece visit the official website of the Hellenic Ministry of Culture.

RELATED ARTICLES:
OTHER USEFUL LINKS:
From ACROPOLIS GREECE to Mediterranean Cruise Ports Easy
HOME PAGE