Cruisers' tips for visiting
Athens Acropolis Greece
" Tips on visiting Athens Acropolis Greece - find out how to get there, ticket fees, when to visit and much more... "
What is special about Athens Acropolis in Greece?
It is only natural all the cruisers are rushing to see Athens Acropolis.
The Acropolis is an ancient citadel located on a rocky outcrop above the city of Athens, Greece. It holds immense historical and cultural significance and is considered one of the most iconic landmarks in the world.
Apart from being an architectural marvel and having connections to Greek mythology (find out more about the goddess Athena), it also offers breathtaking panoramic views of modern day Athens. 
For many people visiting Athens is a once in a lifetime affair and seeing one of the most magnificent places ever built in the world is an absolute must.
But to really enjoy visiting Athens Acropolis Greece we have compiled a few tips that might help you have everything running smoothly.
---
How to get from Piraeus to Athens Acropolis Greece?
There are many ways you can get from port of Piraeus to Athens Acropolis.
Taking one of the cruise line organized tours is just one of the options, you can find out about all the others, more suitable to your needs, in our article Athens transport.

Do not leave planning your transportation to the last minute or be discouraged by the fact your cruise ship is about 30 minutes drive from the most impressive of Athens Greece attractions.
If you don't have time to read yet another page on getting to Athens Acropolis and all you want is a transfer to Athens, I have a quick fix for you:
Why not just get off the ship and take a taxi? Well, long story short: you will not get any of the drivers to take you for a single ride from point A to point B, they will want to sign you up for a whole day arrangement.
That is why booking a transfer online is a much cleaner way of doing things. 
---
When is the best time to visit Athens Acropolis?
Get there early!
If you decide to take a taxi or a private transfer, a public transport bus line 040, the Express bus X80, a private tour to Acropolis or take a metro Athens train from Piraeus to Athens, you have one big advantage before those on the shore excursions organised by the cruiseline or other shared shore excursions.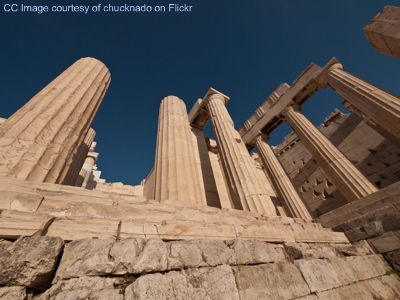 Namely, you can get there before everyone else, first thing in the morning when the site opens for visitors and avoid the crowds that certainly don't add to the magic of visiting such a place.
Preferably, be there before 8 o'clock! Yes, before the site even opens!
15 or 20 minutes play a big role: one moment you may enjoy the site all by yourself, the next you will be swarmed by hundreds of tourists, tour guides and their colourful flags and umbrellas.
In other words, this is not the day to have breakfast onboard the cruisehip!
To help you with planning, here's Athens Acropolis opening hours:
Summer: (01/04-31/10)
08:00 – 19:30 daily
Monday 11:00 – 19:30
Winter: (01/11 – 31/03)
08:30 – 15:00 daily
Athens Acropolis is Closed on the following dates:
1 January: closed
6 January: 08.30-15.00
Shrove Monday: 08.30-15.00
25 March: closed
Good Friday: until 12:00 closed
Holy Saturday: 08.30-15.00
1 May: closed
Easter Sunday: closed
Easter Monday: 08.30-15.00
Holy Spirit Day: 08.30-15.00
28 October: 08.30-15.00
25 December: closed
26 December: closed
---
Where to enter the Acropolis?
There are two entrances to the Acropolis:
Main Entrance (West side): The main entrance to the Acropolis is on the west side (on the Rovertou Galli) and it is the most common and popular way for visitors to access the site. It leads you to the iconic Propylaea, the monumental gateway to the Acropolis.
There is a big parking nearby so that's why this gate is used by organised tour buses - because of that, you could wait up to an hour to entrer the site if you come at the same time as all the tour buses.
Side Entrance (South - eastern entrance): The south entrance is less crowded and is accessed through a gate near the Dionysus Theatre. While it might not be as commonly used as the main entrance, it can be an excellent option for avoiding crowds during peak tourist seasons as the lines are much shorter. This is where small groups and skip-the-line tours will enter. That is why I suggest using this entrance. It is also closer to the Acropolis Museum.
---
How long does it take to climb to the top of the Acropolis?
The ascent to the Acropolis is not overly strenuous, but it involves walking uphill on uneven terrain and steps - so the time needed will depend on your speed and your physical fitness.
On average, it takes around 15 to 20 minutes to walk from the main entrance at the bottom of the Acropolis hill to the top, where the main archaeological site and monuments are located. 
How long will it take to see around the Acropolis?
The total time spent on the Acropolis will likely be longer as you explore the various monuments, take in the views, and learn about the site's history and significance.
Plan to allocate several hours for a thorough visit to the Acropolis, including time to explore the Parthenon, the Erechtheion, the Temple of Athena Nike, and other points of interest.
The later you come, the more time you'll need to get around due to the crowds. So, I can't stress enough - get there early!
---
Getting to the Acropolis entrance by public transport
If you are using local public transport here's how to reach these two entrances:
Metro: The stop closest to these entrances is Acropoli on the red line.
Bus: The bus stop closest to the Acropolis is Makriyianni (one stop before Syntagma square). The bus stop is served by routes 24, 40, 126, 134, A2, A3, A4, and 57.
Cruise passengers coming from Piraeus will use either:
bus line 40 (040) which has more stops along the way and can get crowded with locals. It's end destination is Syntagma square (one Metro stop away from Acropoli) or get off at Makriyianni stop for the Acropolis.
or the express bus line called X80 and goes straight from Piraeus to the Acropolis and then Syntagma square.
---
Is Athens Acropolis in Greece free to see?
Athens Acropolis is not free to see.
To access the archaeological site of the Acropolis, you will need to purchase a ticket.
The ticket grants you entry to the various monuments and sites within the Acropolis complex, including the Parthenon, the Erechtheion, the Temple of Athena Nike, and the Propylaea, among others.
It does not include access to the Museum of Acropolis!
How much does it cost to see Athens Acropolis Greece? What is the entrance fee?
Summer season: 1 April to 31 October
Admission: 20 euros
Reduced admission: 10 euros
Winter season: 1 November to 31 March
Admission: 10 euros
Reduced admission: 5 euros
---
Where can I buy Athens Acropolis tickets?
Here are the common ways to buy Athens Acropolis tickets:
On-Site Ticket Booths: 
When visiting the Acropolis, you can purchase tickets directly at the on-site ticket kiosks/offices/booths located at the main entrance or other designated ticket points. 

There is one of the ticket booths marked on the map below, in blue. It's the one closer to the west entrance.
There is also one ticket booth closer to the Acropolis Museum, i.e. to the side entrance by the Dionysus Theatre.
You would buy your tickets there and then just scan them at one of the entrances.
However, keep reading to find out about a better way to get your Acropolis tickets.
However, I really suggest you don't leave buying your tickets for the last minute!
On a really bus day, the line can be 2-4 hours long and, as a cruiser, your time is way to0 precious to spend it standing in line. Especially not in 37C degrees or more.
Online Tickets: 
Many visitors prefer to buy their tickets online in advance to save time and avoid really long lines at the ticket booths. I wholeheartedly advise you do, too.

Online tickets can be purchased in a few ways:
1) Through the official website of the Hellenic Ministry of Culture and Sports.
The only problem with these is they are 'non-refundable, non-canceleable and non-changeable'.
If you would like to purchase an online ticket that can be cancelled for free 24 hours in advance, keep reading.
2) Through a trusted online tour provider such as Viator
This option allows you to secure your entry for a specific date and time (although time is not set in stone), especially during peak tourist seasons.
Below there is a link to do that, if you don't mind paying a few dollars more for the convenience of cancelling. 
Note #1: be aware that there are cheaper entrance tickets available on Viator, as well. However, they are just vouchers and you would still need to wait in line for hours at the ticket booth to exchange them for the actual tickets.
Note #2: reduced price tickets can only be purchased in person, waiting at the ticket booth at the Acropola entrance, not online. You will need to decide what option to go with.
With this one below, you also get a downloadable audio guide and don't need to wait in line at the ticket kiosk/booth: it's a skip-the-line ticket. All you need to do is scan it at the turnstiles (there may be a line there but it moves quickly):
---
When can you visit Athens Acropolis for free?
There are a few days in the year when you can visit for free, however not many are in the peak season, between 1 April and 31 October.
Free admission:
6 March (in memory of Melina Mercouri)
5 June (International Enviroment Day)
18 April (International Monuments Day)
18 May (International Museums Day)
The last weekend of September annually (European Heritage Days)
Sundays in the period between 1 November and 31 March
National Holidays
The first Sunday of every month, except for July, August and September (when the first Sunday is holiday, then the second is the free admission day.)
27 September, International Tourism Day
---
Can you see Athens Acropolis without a tour guide?
Yes, you can certainly visit the Acropolis without a tour guide.
The site is open to the public, and visitors are allowed to explore and admire the ancient monuments and archaeological remains on their own.
Many visitors choose to explore the Acropolis independently, taking their time to wander around the site, take photographs, and soak in the historical and cultural significance of this iconic landmark.
If you prefer to be hassle-free and fully enjoy your vacation, you can always pick one of the organised and guided shore excursions that pick you up by the ship and take you to visit the Acropolis (can be combined with Athens sightseeing, too).
Here's the private shore excursion from Piraeus:
---
And there are also the shared shore excursions:
---
If you prefer taking local transport to the Acropolis and meeting your tour guide at the spot, here's a few options:
---
What other tips for visiting Acropolis do I need?
1. HAVE A BOTTLE OF WATER, A HAT AND SUNSCREEN – especially if you cannot choose the time of the visit. In summer, Athens weather and temperatures can be excruciating. Make sure you protect yourself.

2.  WEAR FLAT, RUBBER SOLE, CLOSED SHOES - the marble pavement is exceptionally slippery and you don't want to break your leg this far from home!
---
Important information: Athens Acropolis Greece is accessible to physically disabled people- the lift is vehicle and wheelchair accessible via an entrance just North of the main entrance to the Acropolis. If you need handicap accessibility, you should call 210 3214172-3 for information and to find out if the lift is operational, ahead of your visit.
For more info on visiting Acropolis Greece visit the official website of the Hellenic Ministry of Culture and enjoy your visit to Acropolis Greece!

RELATED ARTICLES:
OTHER USEFUL LINKS:
From ACROPOLIS GREECE to Mediterranean Cruise Ports Easy
HOME PAGE
Have A Great Story About This Topic?
Do you have a great story about this? Have you been to this port of call? Have tried out any of the shore excursions I recommend? Do you have any tips that might help your fellow cruisers? Share them with us!