Ancient City Pompeii Italy - Entrance Fees, Opening times, Pompeii Tours for Cruisers
"Planning your visit to the Ancient City Pompeii gets easier with these practical tips on how to dress, entrance fees, opening times and where to find what!"
If you have followed the directions on getting from Naples to Pompeii by train, you will be entering the Pompeii ruins from Porta Marina, the entrance close to the Pompeii Scavi train station.
As you enter the area of the ancient city Pompeii excavation site, you will be able to get your tickets, maps, info booklets and audio guides here.
However, you can always plan what to see in Pompeii ahead, that's why we have prepared a map of ancient Pompeii for you!
---
Ancient City of Pompeii: Tickets and Entrance Fees
Pompeii entrance fee: €13 per adult
When buying the tickets, you can either wait in line at the site itself or go ahead and get this €17 Pomepii skip-the-line ticket online. It is a definite bestseller as both the printed or mobile vouchers are accepted at the entrance and they are easy to cancel a day ahead with a full refund.
Free of charge: EU citizens under 18 and over 65 years old.
Reductions: EU citizens 18-24, €7.50
Audio guides: €6.50 or two for €10
If you think you might save some money and get an audio-guide instead of paying for a tour guide, you might be disappointed.
People often spend a lot of time trying to coordinate the audio guide with the map and end-up walking around aimlessly. Just like Ephesus in Turkey, Pompeii, being one of the most important archaeological sites in Italy, deserves to be seen with a tour guide.
And at the price of only €12 p.p. you can do it without breaking the bank. You can book your Pompeii guided tour at this popular price right here (it doesn't include the admission!).
---
Ancient City Pompeii: Getting Around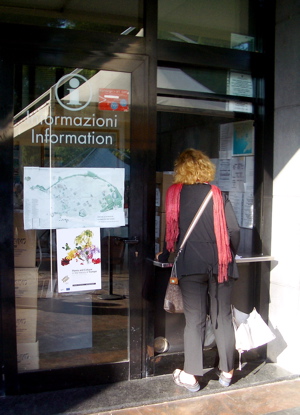 When you visit the ancient city Pompeii keep in mind the old Roman cobblestone roads can be very exhausting to walk on. So do wear solid, flat and closed footwear.
If you are disabled, this will not be the site to use a scooter or a manual wheelchair, the roads are just too uneven. You would have to literally lift the wheelchair over the obstacles: large cracks, drainage gutters, curbs, stepping stones...not to mention getting it into house ruins!
Not even strollers would be easier to use and most people will have them folded to be able to walk around.
So you will have to rethink your visit to Pompeii on that day and rather go with Sorrento Italy and Capri Italy.
If you are taking kids with you to Pompeii, make sure you keep and eye on them as they might get hurt standing at the edge of the digs or climbing the walls.
Some parts of Pompeii and Pompeii homes have restricted access and that should be respected.
---
The Ancient City of Pompeii: Opening Times
April to October: open daily from 8:30am - 7:30pm
November to March: open daily from 8:30am - 5:00pm
Closed: 1st January, 1st May, 25th December
To find out more up to date info on the opening times and entrance fees to the ancient city of Pompeii, visit their official website here.
If you are to visit Pompeii ruins independently, try to get there early in the morning before the tour buses arrive.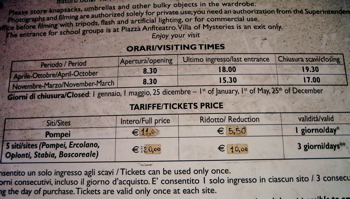 The Ancient City Pompeii: Tour Guides
The site doesn't really have it's own official tour guides so you will find many of them hovering around the entrance offering their services, some of them just claiming to be guides.
The official guides authorised by the Regione Campania have to show their licences upon request.
If you need a guide when visiting Pompeii, you better book one through a reputable business online.
---
The Ancient City Pompeii: Miscellaneous Tips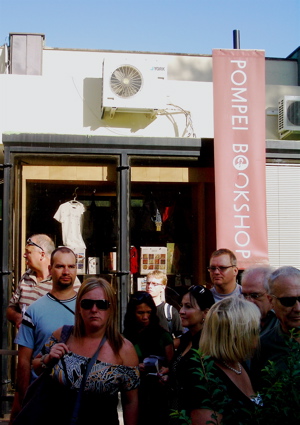 Make sure you have bottled water with you before you enter the site, in summer it gets very hot and dusty.
Have a hat to protect yourself from the sun, it gets very hot here in summer and there isn't much shade.
Apply a lot of sunscreen, you will be walking in the sun for at least a couple of hours
Keep in mind you will be spending at least 2 hours inside the ancient city of Pompeii excavation site, that's the minimum you need to experience the site and get an idea of what it's all about.
Use the toilet before you enter the site, there are some at the main entrance. Once you enter the ruins, there is only one close to the main entrance and that's about it. You don't want to walk for 15 minutes from one side of
Pompeii ruins
to the other side when you really need to go!
Photographs and filming are authorized for private use
Smoking is not permitted
Pets are not allowed on the site
There is a cafe inside the site, apparently not serving food as of 2009. The restaurants outside the Pompeii entrance are very expensive. You will be better off eating in
Sorrento Italy
or Naples.
---
RELATED ARTICLES:
CRUISE POMPEII ARTICLES TABLE OF CONTENTS
From ANCIENT CITY POMPEII to Mediterranean Cruise Ports Easy
HOME PAGE