Visiting The Lost City of Pompeii - Pompeii Transportation, Travel Information and Cruisers' Guide 
"The Lost City of Pompeii visit and learning about Pompeii history can be combined with other attractions in the Bay of Naples area..."
We assume you don't really come cruising to Naples every day.
That's why we think you should really be making most of your day here. Especially since, as far as we know, no ships have an overnight in Naples (Azamara Quest overnights anchored in Sorrento Italy though!), although this is one fo the ports that certainly deserves one.


In other words, you can easily combine your visit to the lost city of Pompeii with a visit to at least one of the other attractions fo the Bay of Naples: Naples city itself, Sorrento or Capri Italy.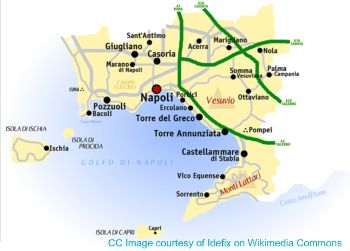 Of course, it could also be easily combined with the sister site of Herculaneum but we would be talking of more of the same here.
So, if you're not into spending the whole day in the dust of Pompeii ruins, you can easily combine:
1. Pompeii and Naples: take a train from Naples to Pompeii first thing in the morning, while it's still not hot and before all the tour buses arrive. Read more about how to go about taking a train from Naples in our article Naples to Pompeii by train.
After visiting the lost city of Pompeii, take the train back and spend the afternoon either exploring the National Museum of Naples (where most of the artefacts from Pompeii are kept) or having the best pizza in the world in the famous pizzerias Da Michele or Trianon.
Remember that most shops in Naples will be closed for siesta from 1pm to 4pm.
Here's a few of our suggestions for tours and shore excursions that will make it easier for you to spend your day in Pompeii and Naples...
TIP: For the most up to date Circumvesuviana train timetables check the official website of Campania trains. Your departure station (Da) will be Napoli Garibaldi (Stazione Centrale F.S.) and your arrival station (A) will be Pompeii Scavi - Villa Misteri.At the moment of this page's building, there was no English version of the website but hopefully one is in the making.
2. Pompeii and Sorrento Italy - The lost city of Pompeii is just half way beween Naples and Sorrento Italy, so why not spend a few hours in this quaint cliff-top town, having a coffee and pizza in its main square or shopping for its world famous inlaid wood?
To get from Naples to Sorrento and then Sorrento to Pompeii, buy two separate train tickets for each leg of the trip at the point of departure, Naples.
If you're tired of the slow and draining train ride, why not walk down to the port of Sorrento and take a hydrofoil (a fast boat) back to the port of Naples?
Click here to see the Naples Italy map of Naples cruise port area
Considering it drops you right by your cruise ship, it's going to save you a lot of time, too!
Just make sure you decide ahead on how long you will be staying in Sorrento if you're taking a hydrofoil back. Namely, they aren't very frequent in the afternoon.
Afternoon hydrofoil times from Sorrento to Naples in the high season are as follows:
12:00 Noon
2:00 pm
4:25 pm
The ride takes about 30-40 minutes, the cost is approx. €12.90 per person.
If you will be taking the last hydrofoil from Sorrento, make sure you get to the port at least 30 minutes before its departure to make sure you secure your tickets, it can get very busy. Also, ask at the booth which pier it will be leaving from.
Make sure you only take the last hydrofoil if it allows enough time for you to be back on the ship in time, which is always 30 minutes before its departure.
IMPORTANT: If using boats to transport yourself across the Bay of Naples, remember you will be using hydrofoils, not ferries. Ferries are bigger boats that take cars, as well as people, and they take much longer. Hydrofoils are faster and smaller boats that will save your precious cruiser's time. Read more in our article Capri Ferry.
If you would like to have a worry-free day here's a few suggestions on tours that will make it easier for you to spend your day in Pompeii, Sorrento and beyond...
3. You could even combine the lost city of Pompeii and Capri Italia
That would be our personal preference. Some Pompeii history in the morning and then some glitz and glamour of the isle of Capri Italy in the afternoon...sipping on an espresso in the Piazzetta or shopping for its famous little magic bells or perfumes, there's no better ending to your day in the Bay of Naples.
Reach the lost city of Pompeii by train from Naples, proceed further to Sorrento once you're done there, take a taxi to the port of Sorrento...or walk down for about 20 minutes to catch your hydrofoil to Capri.
The ride from Sorrento to Capri will take about 30 minutes. Check the hydrofoil timetable here.
Learn about the easiest way to reach Capri town in our article Getting to Capri town to Marina Grande.
Once done with Capri town, take the funicular down to the port (head down at least 30 min before the departure of your hydrofoil) to buy your tickets at the booth and find the right pier for your hydrofoil.
If you don't want to spend the day worrying about the local transportation, here's a few suggestions that can get you to both Pompeii and Capri in a day...
RELATED ARTICLES:
CRUISE POMPEII ARTICLES TABLE OF CONTENTS
From THE LOST CITY OF POMPEII to Mediterranean Cruise Ports Easy
HOME PAGE
Have A Great Story About This Topic?
Do you have a great story about this? Have you been to this port of call? Have tried out any of the shore excursions I recommend? Do you have any tips that might help your fellow cruisers? Share them with us!