12 Interesting Facts About Rome - Modern Day Rome Facts

"Facts about Rome Italy that will surprise you and make you sound like a real seasoned Rome traveler! "
Knowing these fun and interesting Rome facts and trivia will impress your friends and family. You can also show off at your dining-room table the night before your Mediterranean cruise ship calls to Rome Italy! Also, don't forget to check out our Rome Facts and Figures as well as Ancient Rome Facts.

---
Some Interesting Facts about Rome in Modern Times

1. Rome was the first modern city to reach a population of 1 million by 50 BC! It wasn't matched by any other European city until London finally over took it in the 19th Ct.
2. Rome's mascot is a she-wolf that cared for the brothers Romulus and Remus, the legendary founders of Rome. You can see Palatinus, the hill where Romulus founded the Eternal city if you get on the Archaeological Sights of Rome tour.
3. Rome has two major football teams, AS Roma and SS Lazio. These two rival teams share the same stadium, Stadio Olimpico. You can be a VIP guest at one of the matches with the VIP Seating at AS Roma's Stadio Olimpico Including Gourmet Buffet and Open Bar Tour.
4. Rome has a sovereign state located entirely in its city limits, the Vatican City. Vatican is the world's smallest state and ruled by the Bishop of Rome, the Pope. Visiting Vatican is a must so make sure you book your highlights tour here.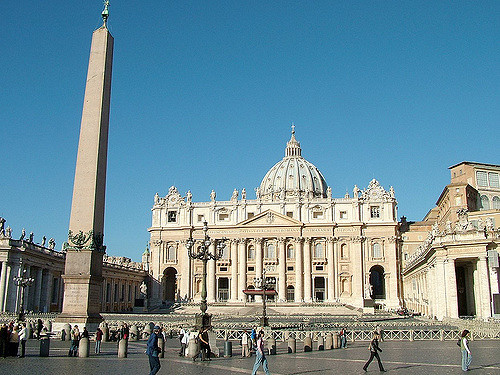 "Creative Commons Rome-Vatican" by jfelse01 is licensed under CC BY 2.0
5. Rome's first university, La Sapienza (est. A.D. 1303), is the largest in Europe and the second largest in the world.

6. The St. Pietro (St. Peter's Basillica) currently displays the chains that supposedly held St. Peter while imprisoned (with St. Paul) in the Carcere Mamertino (Mamertine Prison) which can be seen if you get on the Christianity in the Ancient Rome tour.
7. According to the City of Rome, nearly 700,000 euros worth of coins gets tossed into the Trevi Fountain each year. The proceeds are donated to Caritas to help the needy. Visiting the Trevi Fountain is part of the Highlights of Rome Tour.Definitely one of our favourite facts about Rome.
8. Rome has a museum dedicated entirely to pasta. You get to taste some real Roman pasta on the Rome Sightseeing and Food Tasting tour.

9. St Peter's basilica inside the Vatican city is the largest church ever constructed. One of the most popular ways to see it is this Rome Combo tour.
10. The Colosseum of Rome is one of the Seven Wonders of the World. If you want to see the Colosseum and make the most of your day in Rome, take this comprehensive Rome in a Day tour and find out more interesting facts about Rome. 
11. The Vatican museum is the largest museum complex in the world as it consists of over 1000 museums and galleries. If you want to make Vatican the focus of your stay in Rome, this Vatican Gardens and Vatican Museums Tour is one of the top-rated tours to take.
12. There are 280 fountains in Rome. To visit the most beautiful ones, take the Squares and Fountains of Rome by Segway tour.
If you are looking for ways of getting from Civitavecchia to Rome, see some of our recommendations here...

Looking for Rome accomodation before or after your stay? Check around...
Have A Great Story About This Topic?
Do you have a great story about this? Have you been to this port of call? Have tried out any of the shore excursions I recommend? Do you have any tips that might help your fellow cruisers? Share them with us!