Faraglioni Capri -
Capri Island Atraction
"Faraglioni Capri- learn what makes these Isle of Capri Italy attractions so unique"
Long before there were Roman Emperors, medieval monasteries, elegant hotels and villas and all the other Capri attractions, there were the timeless Faraglioni of Capri… 3 rocks sticking out of the crystal blue seas off the south eastern corner of the island.
They have been braving the erosion from wind, rain and sea for millennia and have stood there equally tickling the imagination of passers by today and two thousand years ago.
Having been around for so long, they deserved to each get their own name… the first one, Stella (the Star), is attached to the mainland and is 109m high.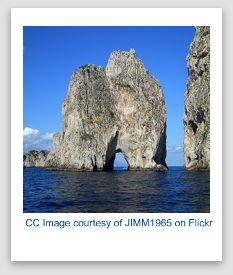 The second one of the Faraglioni in Capri, di Mezzo (the Middle One) is 81m high and has a natural tunnel, roughly 60m in length, that passes right through it and makes the whole setting even more magical and picturesque. The cavity is big enough for a small boat to pass through.
The third rock, the Faraglione di Fuori of Scopolo, 104 meters high is the habitat of the famous blue lizard, the Lacerta viridens faraglionensis, which can be found exclusively living on this very rock and nowhere else in the world.
Why is the lizard blue?
How was Faraglioni Capri formed?
A theory says that after the rocks got separated from the mainland, as a result of the geographical and genetic isolation, the lizards' scales assumed and kept the blue colour of the sky and the sea.
Although not so prominent, there is also the fourth faraglione, which is more flat and closer to the Tragara. It is called Monacone, named after the sea lion "monaca" that used to live there up until the last century.
The Romans were especially fond of the area around the Faraglioni and obviously considered it sacred as they used many of the natural coves in the cliff to build the nymphei as well as their villas to enjoy the stunning setting.
To get a good shot of the Faraglioni, Capri go to the Augustus Gardens or the Belvedere of Tragara.
RELATED ARTICLES:
---
Deals on Hotels and Shore Excursions:
Hotels in Gulf of Naples - Planning to stay in or around Naples? HotelsCombined.com allows you to instantly search and compare room availability and prices from all major travel websites!
Viator Bay of Naples and Amalfi Coast Tours and Shore Excursions - Compare prices to the ship offered shore excursions and book your own tours online!
---
Like this page?
From FARAGLIONI CAPRI to Mediterranean Cruise Ports
HOME PAGE