Getting to Zadar from the Cruise Port
"Getting to Zadar from the cruise port of Gaženica is easy if you know where your ship is docked and pick your means of transportation ahead to have a smooth day"
If you have done some online research about where the ships dock and getting to Zadar from the cruise terminal, you could be confused. It's because there are two different options when it comes to docking in Zadar.

---
Getting to Zadar: Where do cruise ships dock in Zadar?
1)      Smaller ships will dock at Zadar peninsula, at the Sea Promenade which is in the heart of the old town, just a stone's throw from the church of St Donatus and all the other sights I described in Zadar Travel Guide: Attractions, Landmarks and Sights to See

2)      Bigger ships will dock at the ferry port of Gaženica which is on the outskirts of Zadar, between Zadar and the village of Bibinje. That is where both ferries and cruise ships moved in 2014. The distance is some 5-6km (3-4 miles).
If you are on a smaller ship and dock in the old town, you are very lucky, you will just get off the gangway and you are right there, ready to Do Top 10 Things in Zadar.
If you are on a bigger ship, you need to think about the way you will get to town as there is nothing there in the port of Gaženica, no shops and very limited shelter.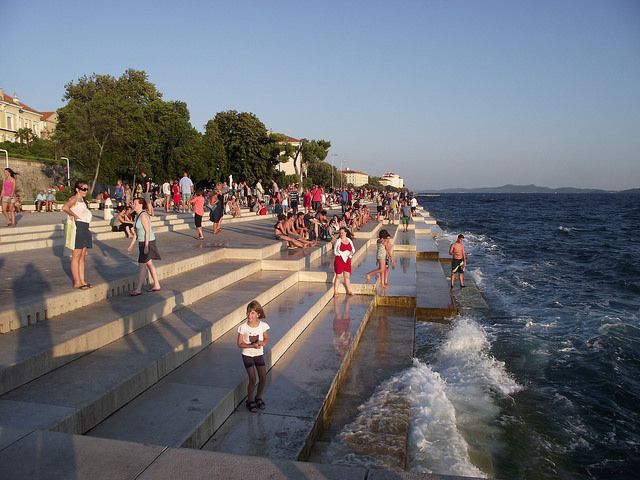 This is where small cruise ships dock - "Creative Commons Morske Orgulje" by Fred Romero is licensed under CC BY 2.0
Getting to Zadar: How to get from the cruise terminal to Zadar town?
There are a few options so you can choose which one suits you best:

1)      Shuttle bus provided by the port – the shuttle will be waiting for the passengers at the dock and drop them off in the old town, right by the Sea Organ at the Promenade. There is a fee for this service, some cruise lines passengers report paying €15 and the others $12 per person, round trip.
2)      Taxi is also an option. Although officially you shouldn't pay more than $10 for a taxi, they do overcharge the tourists so you can expect to pay abotut $25 per taxi. If you share it, it's a still a  good deal. Taxis will be parked near the bus stop at the port.
3)      Local bus – there is a local bus stop at the port and it can get you to town for a couple of dollars. First you should take the bus #9 (Liburnija bus line) which takes you to the central bus station. There, change buses and take #2 or #4, they will take you straight to the old town. The buses run every 30 min approximately. Buses #2 and #4 will drop you off at the Sea Organ in old town. Check the latest timetables at the official Liburnija line page.
Home

>

Cruise Venice

> Venice Honeymoon