Transport Venice - from your Venice hotels to Stazione Marittima cruise terminal
"Arrange your transport in Venice ahead for a stress-free morning - you'll be nice and fresh for the lunch buffet and the welcome aboard party on the open deck..."
Venice is turnaround port for many cruise lines and this gives you a chance to spend some time in the city itself before or after your cruise vacation. 
If staying in Venice for a night isn't included in your Europe ship's itinerary (as an overnight) then you should plan it yourself. Touching down in Venice and going straight to your Venice cruise ship terminal without seeing one of the most beautiful cities in the world would be such a shame!

Staying in Venice city for a few nights before or after your cruise could be the crown of your whole Mediterranean cruise vacation. 
Same applies if you are joining one of the cruise ships that have relocated their dock to ports like Ravenna or Trieste. If you don't happen to stay in this part of Europe very often, seeing Venice shouldn't be missed.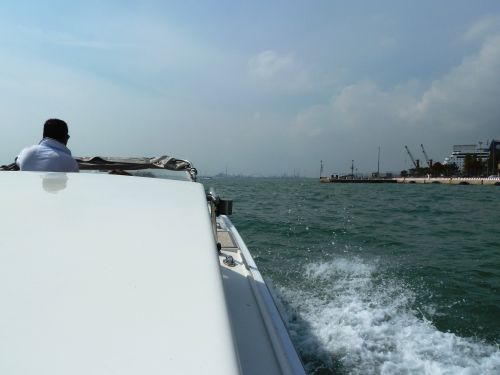 If you have decided to stay for a night or two you should start making plans about:
---
Why should I plan my transport In Venice ahead?
Maybe you are exploring all about Venice vaporettos, the lines' numbers and where the stops are - and it will all come in handy during your visit to Venice, that is for sure.
But it is one thing to use public transport when sightseeing and a completely different thing when trying to get from point A to point B with piles of luggage on you. 
In Venice, it being is a city dispersed on hundreds of little islands and a network of canals in between them, this gets even more stressful. 
It usually gets people really nervous thinking about the next step of the process they don't feel comfortable with. While they should actually be enjoying the sights around them or saving their energy for the welcome-aboard party waiting for them on the ship. 
That is why I recommend booking one of the private departure transfers from Venice hotels/central venice to Stazione Marittima (although ships dock at Marghera industrial area, all the embark/disembark procedures are still taking place at Stazione Marittima). 
---
What is Venice Arrival/Departure Transfer for Cruisers?
It is a service offered by GetYourGuide platform, one of the world's leading resources for booking tours and experiences worldwide. We love to recommend GYG because their services make it possible for you to have an insider by your side when traveling.
And an insider is exactly what you'll need when getting on your cruise ship in Venice Cruise Port.
Private transfer between central Venice and cruise port is one of the rare services of this kind you can book online. Many are still advertised on Viator platform but travelers reviews tell me they are actually not functional anymore!
Click on the photo below to find out more:
---
So what do I get for our money if I book this transfer?
a watertaxi pickup at the pier closest to your hotel

you and your group get to travel in style on a private motor boat (and a minivan that shuttles you from Piazzale Roma to inside the cruise terminal at Stazione Marittima)

a picturesque ride 

time to enjoy the sights of Venice never seen from this perspective (it's like a transfer and tour all in one!)

you get a friendly meet-and-greet agent who will be waiting just for you 
Basically, it's a lot of worry taken off your shoulders and this is why the previous cruises regularly give it a 5-star review. Here's what some of them said about it: 
'So easy and a great send off to a wonderful city. I was not aware when o signed up that the cost included a short car ride from the dock to the boat. First class service'
 Bill, the USA
'Excellent service and communication. Thank you!'
Tammy, the USA
---
RELATED ARTICLES:
---
---
Like this page?
You are here:

Home

›

Venice Tours

› Transport Venice - From Venice Hotels to Cruise Port
Have A Great Story About This Topic?
Do you have a great story about this? Have you been to this port of call? Have tried out any of the shore excursions I recommend? Do you have any tips that might help your fellow cruisers? Share them with us!