Where is Sorrento in Italy?
Sorrento has one of the most exciting positions in Italy: surrounded by Naples, Capri, Amalfi coast, Vesuvius, and Pompeii! Visiting this port of call is a great day for some Sorrento day trips and shore excursions! 
Archaeology, shopping, culinary delights - it's all there!
Where is Sorrento in Italy on the map?
Sorrento is a picturesque coastal town situated in the southern part of Italy (very close to the bustling city of Naples).
It is perched atop rugged cliffs that overlook the azure waters of the Tyrrhenian Sea, offering breathtaking panoramic views.
If your cruise ship anchors in front of Sorrento, you will be able to reach the town via Marina Grande, Sorrento's harbor at the bottom of the cliff.
Where is Sorrento in Italy exactly? It is part of the Campania region, an area celebrated for its stunning coastal landscapes and ancient heritage - no wonder it gets over 10.6 million visitors every year!
What makes Sorrento especially appealing is its prime location on the Sorrentine Peninsula. This location offers visitors a gateway to various remarkable experiences and attractions: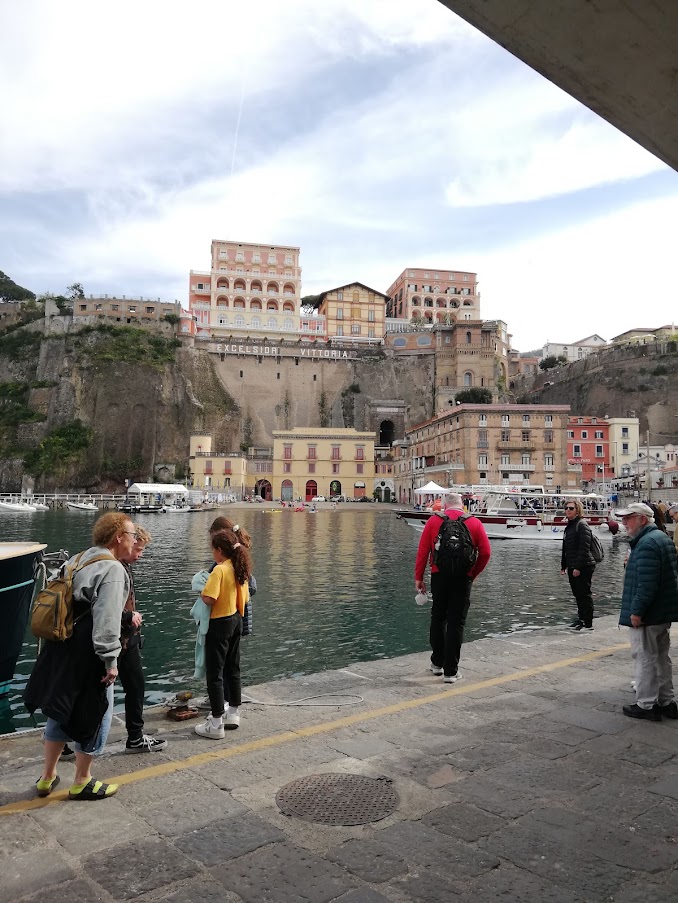 If anchored in front of Sorrento, tender boats will drop you off at Marina Grande. Also, this is where you dock if coming to Sorrento by hydrofoil from Naples.
---
Is Sorrento in Naples?
Located in the southern part of the Sorrentine Peninsula, Sorrento is not a part of Naples itself, but is rather a separate city with its own distinct character.
In spite of the fact that Sorrento is not part of Naples municipality, it serves as a popular tourist destination for tourists exploring the region of Campania. It can be considered both a part of Naples and an independent city at the same time, in a sense.
---
How far is Naples from Sorrento?
The distance between Naples and Sorrento is approximately 49 kilometers (about 30 miles) by road.
It's a scenic coastal drive along the Sorrentine Peninsula with beautiful views of the Bay of Naples.
From Naples to Sorrento, trains and hydrofoils are common ways to travel, but cruise passengers prefer shore excursions as they maximize their time.
Most of them will also include either Pompeii or destinations on the Amalfi coast.
If all you want is just a transfer from Naples to Sorrento, I've found the best rated ones for you:
---
How far is Sorrento from Capri?
Sorrento and Capri, two well-liked locations in the Bay of Naples, are quite close to one another. Capri is an island in the Tyrrhenian Sea, and Sorrento lies on the Italian mainland.
Ferries are the most popular mode of transportation between Sorrento and Capri. To be more precise, the boats are called hydrofoils, not ferries (ferries carry cars and hydrofoils don't).
It's a quick and picturesque ferry ride from Sorrento to Capri, taking about 20 to 30 minutes on average. During the tourist season, ferries run frequently, giving visitors a variety of options.
If your cruise ship is docked in Sorrento and you would like to visit Capri, taking one of the shore excursions is the easiest way!
---
How far is Sorrento from Pompeii?
SORRENTO TRAIN STATION:
The train station in Sorrento, Italy, is located in the heart of the town. It is known as "Sorrento Railway Station" (Stazione di Sorrento in Italian). The station is situated near the Piazza Giovanni Battista De Curtis, making it easily accessible for travelers arriving in Sorrento by train.
Sorrento Railway Station also serves as the terminus of the Circumvesuviana railway line, which connects Sorrento to Naples and other towns in the region, including Pompeii and Herculaneum.
Pompeii is quite near to Sorrento, situated to the north.
It is about sixteen miles (16 kilometers) from Sorrento to Pompeii, an ancient Roman city buried and preserved by the volcanic eruption of Mount Vesuvius in 79 AD, offering a remarkable glimpse into daily life during that time.
From Sorrento, you can easily go to the ancient Pompeii ruins by train or you can make the most of your time there having one of the knowledgeable local tour guides by your side.
Here are a few quick links to some of the best-sold tours to Pompeii:
---
How far is Sorrento from Vesuvius?
Northeast of Sorrento sits Mount Vesuvius, the well-known volcano that erupted and buried Pompeii and Herculaneum.
Despite its potential for future eruptions, Vesuvius is a popular tourist destination. Visitors can hike to the summit to get panoramic views of the Bay of Naples.
For your peace of mind, Vesuvius is continuously monitored by various scientific institutions and observatories to detect any signs of volcanic activity and to provide early warnings to the surrounding population.
Mount Vesuvius is roughly thirty kilometers (19 miles) away from Sorrento.
Getting to Vesuvius from Sorrento is most commonly done by guided trips:
---
How far is Sorrento from Amalfi coast?
INTERESTING FACT ABOUT AMALFI:
Throughout history, Amalfi has drawn a large number of well-known individuals, including writers, artists, and prominent celebrities.
Famous people who have traveled to or been connected to Amalfi include Henrik Ibsen, Richard Wagner, D.H. Lawrence and Tenessee Williams. 
Situated between striking cliffs and offering a stunning view of the glittering Tyrrhenian Sea, Amalfi is a quaint seaside town in southern Italy.
The Amalfi Coast is a 50-kilometer stretch of gorgeous coastline that is known for its spectacular beauty. It is home to quaint towns, colorful lemon orchards, and pristine waters. Travelers are drawn to this UNESCO World Heritage Site by its enchanting atmosphere, charming architecture, and the temptation of laid-back beach living.
Amalfi and Sorrento are roughly 38 kilometers (24 miles) apart. You can travel to Amalfi by bus or car via the scenic Amalfi Coast road (it's best to take one of the shore excursions to make sure you're back on the ship in time).

Where is Sorrento In Italy?