Why Taking an Ephesus
Shore Excursion is a Must
"Ephesus shore excursions: where every single soul on the ship should be on the morning of your visit to Kusadasi is visiting Ephesus ruins!"
When you find out your Mediterranean cruise ship will be calling to Kusadasi Turkey, first congratulate yourself on a good choice of itinerary and then start planning your Ephesus shore excursions or independent daily Ephesus tours.
Kusadasi shopping is great, that's true, you will have a blast getting your Turkish rug and your Turkish leather here, but where every single soul on the ship should be on the morning of your visit to Kusadasi is visiting Ephesus ruins.
The archaeological site of Ephesus is one of the major tourist attractions not just in the area but in the Mediterranean in general, so coming all the way here and not making an effort to get there would be such a shame.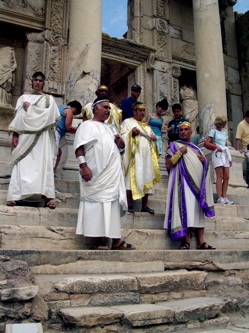 Ancient Ephesus used to be one of the greatest cities of Greeks in Asia Minor, chief commercial hot spot of the province and centre of worship for fertility goddess, Artemis of Ephesus.
The Ephesians loved the goddess so much they built her a temple that was one of the 7 Wonders of the Ancient World: the temple of Arthemis at Ephesus. And it's no wonder if we tell you it was 4 times bigger than the Athens Parthenon!
One of the interesting facts about Ephesus, that you will learn on one of your Ephesus shore excursions, is that although today it is some 8 km inland, it used to be a city with a big harbour. Only later did the port get silted, which contributed to the decline of the city.
It is amazing that walking around the site, you will be walking one of the greatest cities in the classical Mediterranean world and one of the best preserved. It's amazing to think that at one point, in its Golden age, it had over a quarter of a million citizens!
To accommodate only a small portion of its citizens, the Grand Theatre of Ephesus had to be able to take in 25 000 spectators.
When you walk the main street, the Arcadian Way, you will be walking the same marble that the feet of many historical people walked.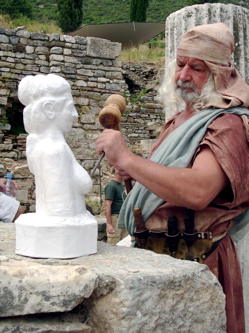 Namely, it was in Ephesus that St Paul taught and preached to his disciples; St John wrote the Bible's fourth Gospel here and died here, which was commemorated with the Basilica of St. John.
The blessed Virgin Mary, spent her last days here too, in a small house in the hills.
Alexander the Great, Mark Anthony and Cleopatra, Cicero, Strabo… these are just a few of the names that visited or stayed in this city at one point.
Besides the regular public buildings that every Roman or Greek city contained… the theatre, the odeon, state agora, monuments to the Emperors… there is also a few unusual and not so holy monuments you will have a chance to see.
First, the public latrines, which were an important spot for socializing… men would come here to talk politics or to catch up on reading. It is interesting that their slaves used to sit on them first to warm them up!
:-)
Secondly, Ephesus shore excursions guests are always amazed to see one of the first advertisements in history here too. And it is nonetheless an advert for a brothel! A head of a woman, a heart and a foot carved in the sidewalk stone, showing the direction!
Read more about these two Ephesus attractions in our article Ephesus ruins.
These may be curiosities to show photos of to friends back home, but the real show stoppers are The Celsus Library, the Grand Theatre, the Temple of Hadrian and other Ephesus ruins that will be part of your Ephesus sight seeing.
You get the point right? Whether taking one of the cruise line organized shore trips or booking one privately online, taking one of the Ephesus shore excursions is a must and will be one of the highlights of your Mediterranean cruise vacation!
And please, don't forget that although it is possible to get to Ephesus by taxi or local bus, which we explained in our article Ephesus travel, this is not one of the days we suggest going sightseeing without a good professional guide. If there is one day during your whole cruise that you're going to take an organized tour of some kind, it should be for Ephesus!
Enjoy your trip back in time! :-)
Kusadasi Hotels and Shore Excursions:
Hotels in Kusadasi - Planning to stay in Kusadasi to explore Ephesus even more? HotelsCombined.com allows you to instantly search and compare room availability and prices from all major travel websites!
Magical Steps Travel - this is a five star private tour provider for Kusadasi and Istanbul. Check out why they have a 100% guests' satisfaction guarantee and Trip Advisor's certificate of excellence for many years in a row now. 
Like Ephesus Shore Excursions page?
---
Pages related to Kusadasi Harbour:
KUSADASI ARTICLES TABLE OF CONTENTS
From EPHESUS SHORE EXCURSIONS to Mediterranean cruise ports easy HOME PAGE