Artemis of Ephesus - Inspiration for the Temple of Artemis at Ephesus
"Artemis of Ephesus was revered more as a Great Mother Goddess..."
The temple of Artemis at Ephesus
, was dedicated to the
Greek Goddess Artemis
.
Although in mainland Greece Artemis was worshipped as the virgin goddess of wilderness, the hunt, wild animals and fertility… in Asia Minor, where Ephesus was located, people had a slightly different idea of the goddess.
Ephesian Artemis was revered more as a Great Mother Goddess. Namely, Greeks would often assimilate foreign gods' features with one of the Gods familiar to them from the Olympic Pantheon.
The goddess that influenced the features of Artemis in Ephesus was Cybele, mother goddess of the East.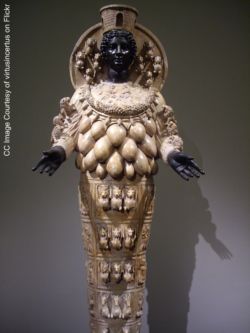 Eastern and Egyptian influences of Artemis can be seen in the way she was portrayed in the sculpture that can be seen at the Ephesus Museum: she is wearing a model of her temple on her head, on her breast a garland of flowers, lions clinging to her arms, as she's the mother of wild beasts.
Her legs are closely bandaged and ornamented with figures of bulls, stags, lions, griffins, flowers and bees. The most interesting part of her statue is the many breasts or "eggs" hanging from her chest. Some even say these may be scrotal sacs from the bulls sacrificed in her honour.
At any rate, it is agreed they accentuate the aspect of fertility in this deity, Artemis of Ephesus.
For more info on Artemis birth, attributes, legends and rituals check the article on Artemis by Melissa Coffey.
If you are looking for a private tour to visit the temple check here.
---
Cruise Deals:
European Cruises
- Looking for a cruise on your favourite cruiseline? Check CruiseDirect.com, a leading cruise line travel company that backs up all the deals on their website with a 100% price guarantee. They provide you with videos, photos, port descriptions, weather and cruise calendars. Live chat with cruise professionals. Filter your deals to Mediterranean departure ports!
Honeymoon Cruise
- Find your favourite romantic Mediterranean honeymoon cruise and save!
Family Cruises
- Look for the best deals on Family Cruises in the Mediterranean
Last Minute Cruises
- Check out CruiseDirect's last minute cruise deals, selected by their expert staff!
---
Like Artemis of Ephesus page?
---
Pages related to Artemis of Ephesus:
From ARTEMIS OF EPHESUS to Mediterranean cruise ports easy HOME PAGE