Athens transport for cruisers: Getting from Piraeus to Athens
"Knowing a little bit about Athens transport will be crucial if you want your day to go smoothly..."
If you still haven't pre-booked one of your cruise line organized tours in Athens, knowing a little bit about Athens transport will be crucial if you want your day to go smoothly.
As you may know already, Athens port, the port of Piraeus, is a cruise terminal distanced some 7 miles/10 km from Athens city and all the Athens attractions you would like to see. So it's perfectly natural for cruisers to wonder: How do I get from the port of Piraeus to Athens?
Athens port simply isn't one of those ports where you walk off the ship and enjoy shopping in Athens and sightseeing straight away - planning your Athens transport ahead is highly suggested!
There are a few different ways you can experience Athens on the day of your Mediterranean cruise to Athens, and here at Mediterranean Cruise Ports Easy we will help you decide which one suits you best:
---
1. Athens transport: Taking Athens train
from Piraeus to Athens

This is definitely the cheapest way of getting from Piraeus port to Athens downtown/Athens Plaka or the Athens Acropolis. With a little help of our detailed instructions in our article Taking Athens train you will gain enough confidence to walk to Piraeus metro station on your own and venture into the little adventure of exploring Athens on your own.
---
2. Athens transport: Taking taxis in Athens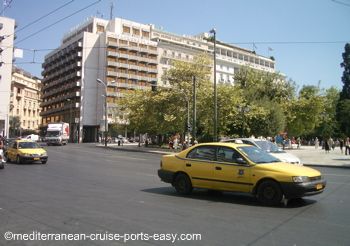 Taking a taxi can be quite a stressful experience if all you want is a simple ride from the Piraeus cruise terminal to Athens Acropolis.
The Athens taxi drivers have a completely different vision of how your day in Athens should look like, and about the prices a tourist should pay for their services.
In our article Taxis in Athens find out all about where to find taxis at the Athens port, how much to expect to pay and how to get around aggressive taxi drivers who want to direct your day here.
---
3. Athens transport: Taking a private organized tour
This is a perfect combination of being driven around in a comfortable air-conditioned car, getting narration about history, myths and customs from a native and feeling safe but… at all times, you have the control in your hands.
It is entirely up to you how long you will stay to take photos, where you want to have a break for a refreshment etc.
---
4. Athens transport: Cruise line organized tours
If you don't mind spending a bit more money for the comfort of an air-conditioned bus, think that you would like to learn more about history from the local tour guides and simply can't be bothered to plan or organize anything… this is the best solution for you.
However, remember you will also be stuck to your group with the "umbilical cord" most of the time and rushed by tour guides from one spot to another.
If you're going with this option, try and choose a tour that will include some time on your own, especially in the Plaka Athens area.
One useful thing to find out from your shore excursion staff onboard the ship is whether your tour to the Acropolis will give you an option of dropping off at Syntagma square (the spot from where the Athens Plaka is easy to access) before the bus returns back to the ship. Or even better, talk to the tour guide directly and he might do so even though it's not part of your tour.
In that case you would have to organize your own way back to the ship if you do drop-off, but it's so worth it as you cannot really leave Athens without experiencing the Plaka!
Also keep in mind that if you're booking a tour visiting Corinth, you will not have time to visit Athens at all. Your tour bus will drop you off back at the ship and there will not be enough time for you to get downtown Athens at all. That's why these tours are recommended to people who have been to Athens before.
Also, keep in mind that "Panoramic" tours mean that most of your sightseeing will be from the bus! These are mostly meant for people who would like to minimize the amount of walking on their tour but still get a glimpse of the sights from a distance.
Another thing to keep in mind when booking your Athens cruise line shore excursions is that the duration of the tour also includes the transportation from the port of Piraeus to Athens, which is approximately 30-35 mins each way due to typically heavy traffic on Athens streets.
RELATED ARTICLES:
PORT OF PIRAEUS - ATHENS PORT FOR CRUISERS
From ATHENS TRANSPORT to Mediterranean Cruise Ports Easy
HOME PAGE