Naples to Capri -
Getting to the isle of Capri
"The whole transportation process of getting from Naples to Capri is like a little day trip in itself…"
Getting from Naples to Capri is always exciting and fun as it breaks the usual way we get around the Mediterranean ports of call. We get off the cruise ship, hop on another bus or train and sit there until we arrive.

With Capri, that would be impossible. If you have never been to this part of the world before, maybe you're not sure so we're going to clear it up for you…

Capri is a beautiful, magical island in the Tyrhhenian sea, on the south side of the Gulf of Naples, 17 sea miles away from the city of Naples.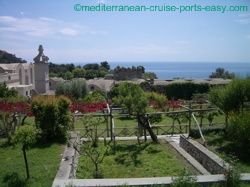 The whole transportation process of getting from Naples to Capri is like a little day trip in itself… we're leaving behind the hustle and bustle of Naples, crazy car drivers running over your toes, gas fumes, grey facades… and sailing closer to a place where time is measured differently, where the little houses' facades come in pastel colours or pure white, where only the smell of jasmine and lemon permeates the air!
So, taking a boat from Naples to Capri is a must… which means if you get approached by the taxi drivers in front of the Naples cruise terminal, and you will be, and they start shouting out the names of the destinations they want to take you to… Capri definitely won't be one of them.
If it is… that just means the taxi driver has a sense of humour and is definitely ready to take you for a ride… but where to, only he would know that! ;)
There are two different ways cruise ship guests can organize their trip from Naples to Capri:
On your own… after reading our articles at Mediterranean Cruise Ports Easy you will be so well informed, getting from Naples to Capri will be a breeze! Very conveniently, the hydrofoil station in Naples is located very close to the cruise ship dock. Where exactly? Read more in our article on

Capri Ferry and Hydrofoil.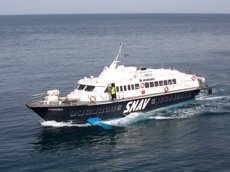 For a fraction of the price of the cruise ship organized tours you can take transportation into your own hands and enjoy a leisurely day in Capri without being rushed around by tour guides.
You can also visit both Capri and Sorrento Italy in a day too. We've seen/heard of people doing Capri, Sorrento and Pompeii Italy on their own in a day too, so it is possible but it takes some precise time planning!
On how to organize your transportation from Naples to Capri on your own, timetables and getting to the hydrofoil dock read our article on Capri Ferry and Hydrofoil and check our Capri Map!
Organized shore excursions/tours: If you cannot be bothered with planning the day yourself and appreciate all the destination knowledge you can soak up from your tour guides, booking a shore excursion is the way to go. When getting from Naples to Capri, your tour guide will walk you from the ship to the hydrofoil station which is only a 5 minute walk from the Naples cruise terminal.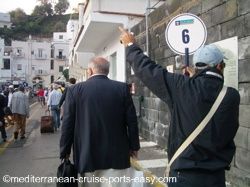 As a  shore excursion tour guest, you will be sharing the same hydrofoil from Naples to Capri with other independent tourists too.
There's a few options when booking a tour to Capri...you can do it on its own or combine it with other attractions...
1) Capri - there's always a tour that concentrates on Capri only and gives you an opportunity to enjoy Capri in a more relaxed manner. It entails a visit to both Capri town and Anacapri, another smaller town on the island. Keep in mind there are no grand tourist attractions on the isle of Capri… just pure enjoyment!
You will love this tour if you like places with enchanted atmospheres and appreciate "the little things"… coffee on a chic Italian piazzetta, luxury brand shopping, dramatic views, inhaling the sweet fragrances of the island…
2) Capri, Sorrento and Pompeii - a bit more rushed shore excursion which dedicates about an hour, hour and a half time to Capri itself. It is perfect for those who won't be coming back anytime soon and want to cover as much as possible at once… the chic and fashionable Capri, a typical resort cliff-top town of Sorrento Italy and the ruins of Pompeii.
If you pick this tour, keep in mind that you are very likely to visit Capri first thing in the morning while the shops are still closed or just opening.
Here's a suggestion of a private Capri, Sorrento and Pompeii tour operated just for you, your family or your party...
3) Capri & Amalfi Coast – These two destinations are loved by artists and poetic souls. This tour will leave you with a full memory card and enough inspiration to last you for years. This combination is sometimes available as a cruise line organised shore excursion.

No matter how you choose to get to Capri, make sure you visit this mythical & charming spot in the Bay of Naples!
RELATED ARTICLES:
Deals on Hotels and Shore Excursions:
Hotels in Gulf of Naples - Planning to stay in or around Naples? HotelsCombined.com allows you to instantly search and compare room availability and prices from all major travel websites!
Viator Bay of Naples and Amalfi Coast Tours and Shore Excursions - Compare prices to the ship offered shore excursions and book your own tours online!
Like this page?
From GETTING FROM NAPLES TO CAPRI to Mediterranean Cruise Ports Easy HOME PAGE