The port of Piraeus - Athens port for cruisers
"Port of Piraeus – a must read for every cruiser wishing to get from Piraeus to Athens when docked in Piraeus Greece!"
If your Mediterranean cruise ship is scheduled to stop at Athens as one of its Mediterranean port destinations, it will undoubtedly dock at the Piraeus port (often misspelled as Pireus Port), the Athens port.
Since ancient times, the port of Piraeus has been the main port of Athens. It is also the largest port of Greece and one of the largest ports in the Mediterranean sea today. As such, it occupies a big portion of the Piraeus Greece town waterfront.
Port of Piraeus is a busy cargo port, the main connection for the ferries that depart to over 200 inhabited islands as well as a busy cruise ship terminal, which is right in the heart of Piraeus town.
That's why it is very easy to walk off the ship and get into the town of Piraeus, but that is not where you want to be when visiting this part of the world on a Mediterranean cruise.
Piraeus is a busy and modern industrial port town with nothing much of interest for Athens Greece cruise guests visiting Athens for the first time. That's why you will need to plan your Athens transport on this day.
But before you do that it is very important to know where your ship will dock inside the Athens port, Port of Piraeus.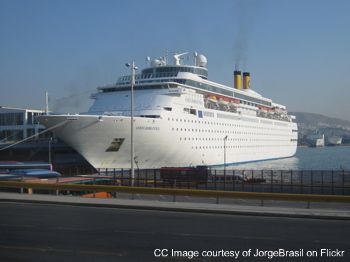 Being a busy port and hosting a couple of cruise ships in the same day, your ship could dock at a few different locations inside the Port of Piraeus cruise terminal.
Make sure you find out which one of these locations your ship will dock at, especially if you'll be walking to the Piraeus train station, as the distance between the various docks/terminal will significantly determine the time of your walk.
IMPORTANT TIP:You cannot take a taxi from the Piraeus port cruise terminal to Piraeus train station. Taxis waiting in front of the cruise terminals are interested in taking you to the Acropolis exclusively! Read more about using taxis in Athens
Also it is very important to know which terminal your cruise ship will dock at if you will be returning back to the port of Piraeus with a taxi. It can make the whole process of your return to the ship much quicker if your taxi driver knows which terminal to drop you off at.
If your cruise director doesn't know which terminal you will be docked at in Athens, you can always go to the purses desk/reception and they can find it out for you by calling the ship bridge.
If you open this Piraeus port map, you will follow the text more easily.
The first possible location for your cruise ship to dock at is:
---
1) TERMINAL A – You will see this terminal on the map by the yellow E11 mark. This terminal is right by the main cruise terminal building where you will find a duty free shop (which you can shop in before your return back to the ship), a café with wi-fi internet service and a couple of small souvenir shops.
As you walk outside the terminal you will be swarmed with taxi drivers, but before you take a taxi to Athens read our taxi in Athens tips here.
If you are on one of the cruise ship organized Athens tours, your shore excursion staff will walk you to the buses parked in front of the terminal A.
Terminal A is much closer to the Piraeus metro station and should be your departure point towards it even if you are docked at the Terminal B. We'll explain how to get from the Terminal B to the Terminal A in the text below.
---
2. TERMINAL B: You will see this terminal on the map in the left bottom corner by the yellow T mark. This terminal is much further from the Piraeus metro station (between yellow marks E5 and E7 on the map).
That's why, if you will be walking to Piraeus train station, you want to get to the Terminal A first. You can do that by taking one of the free cruise port buses that will depart from in front of your cruise ship approx. every 10-15 minutes.
We do not recommend walking between the two terminals. The distance is too far and it is not a safe area to walk in.
If you wish to take one of the taxis into Athens, you can do that right in front of the terminal B building too. You don't need to take the bus to terminal A!
When returning to the cruise ship at the end of the day, you can find the port buses from terminal A to terminal B by the Duty free shop exit.
When returning to the ship by taxi, remember to stress to your taxi driver if your ship is docked by terminal B.
If you will be taking one of the cruise ship organized tours from Terminal B, there's nothing to worry about. The shore excursions staff will walk you to the buses right in front of the terminal B building and this is where you will be dropped off at the end too.
There are no duty free shops or cafes inside the terminal B building.
If you would like to have a stress-free day in Athens and have someone else take care of your transportation from Piraeus to Athens, here's a few suggestions...
---
RELATED ARTICLES:
From PORT OF PIRAEUS to Mediterranean Cruise Ports Easy
HOME PAGE