The Port of Piraeus - Everything You Need to Know About the Port of Athens
"Port of Piraeus – a must read for every cruiser wishing to get from Piraeus to Athens when docked in Piraeus Greece!"
Where do cruise ships dock in Athens Greece?
If your Mediterranean cruise ship is scheduled to stop at Athens as one of its Mediterranean port destinations, it will undoubtedly dock at the Piraeus port (often misspelled as Pireus Port), the port of Athens.
Since ancient times, the port of Piraeus has been the main port of the city of Athens.
It is also the largest port of Greece and one of the largest ports in the Mediterranean sea today. As such, it occupies a big portion of the Piraeus town waterfront.

Port of Piraeus is a busy cargo port, the main connection for the ferries that depart to over 200 inhabited islands as well as a busy cruise ship terminal, which is right in the heart of Piraeus town.
---
Is Piraeus a part of Athens?
Yes, Piraeus is considered a part of Athens. It is the principal port city of Athens and serves as the main gateway for maritime transportation to and from the Greek capital.
While Piraeus has its own distinct character and identity, it is geographically adjacent to Athens and is often referred to as the Port of Athens.
---
Where is Piraeus Port?
Piraeus is located southwest of the city center of Athens. It is situated on the Saronic Gulf.
The Port of Piraeus is located in the city of Piraeus, which is southwest of the city center of Athens. The port is situated on the eastern coast of the Saronic Gulf, providing easy access to the Aegean Sea.
The port area covers a considerable stretch along the coast (as you can see on the photo above), and it includes multiple docks and terminals for various types of vessels, including cruise ships, ferries, and cargo ships.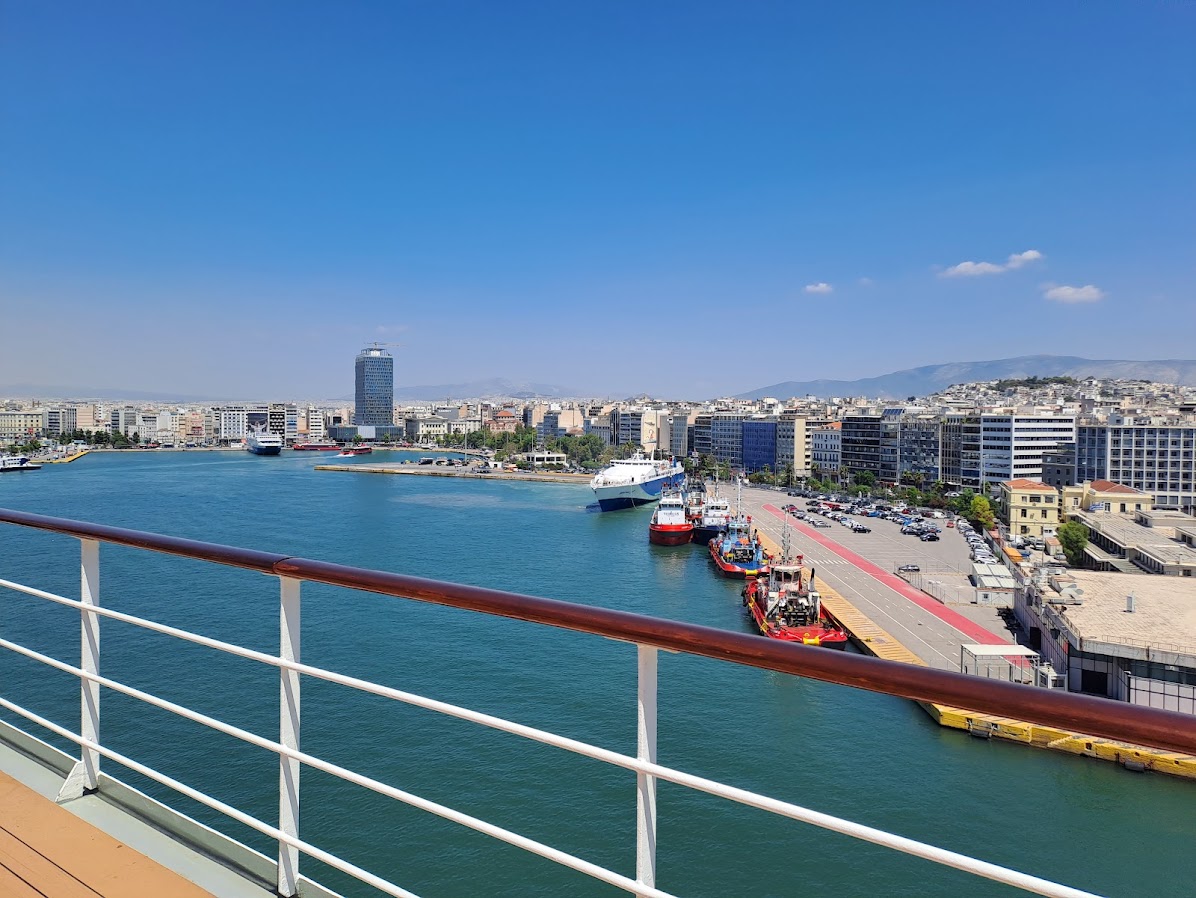 Piraeus metro station is all the way on the other side of the bay - taking bus x80 is much more convenient
---
Is Piraeus worth visiting?
When coming to the port of Piraeus your primary goal is to explore the major historical and cultural attractions of Athens, such as the Acropolis, ancient sites, and museums, you may find more comprehensive options within the city itself.
Piraeus is primarily a port city and, while it offers its own attractions, it may not have the same concentration of famous landmarks as central Athens.
Considering the limited time in port, it's advisable to prioritize Athens' iconic sights. However, if you have additional time or a specific interest in exploring the maritime history and local atmosphere of Piraeus, it can certainly be worth a visit.
---
How do you get from Piraeus port to Athens city centre?
It is very easy to walk off the ship and get into the town of Piraeus, but that is not where you want to be when visiting this part of the world on a Mediterranean cruise.

Piraeus is a busy and modern industrial port town with nothing much of interest for Athens Greece cruise guests visiting Athens for the first time.
That's why you will need to plan your Athens transport on this day.
But before you do that it is very important to know where your ship will dock inside the Athens port, Port of Piraeus.
Being a busy port and hosting a couple of cruise ships in the same day, your ship could dock at a few different locations inside the Port of Piraeus cruise terminal.
Make sure you find out which one of these locations your ship will dock at, especially if you'll be walking to the Piraeus train station, as the distance between the various docks/terminal will significantly determine the time of your walk.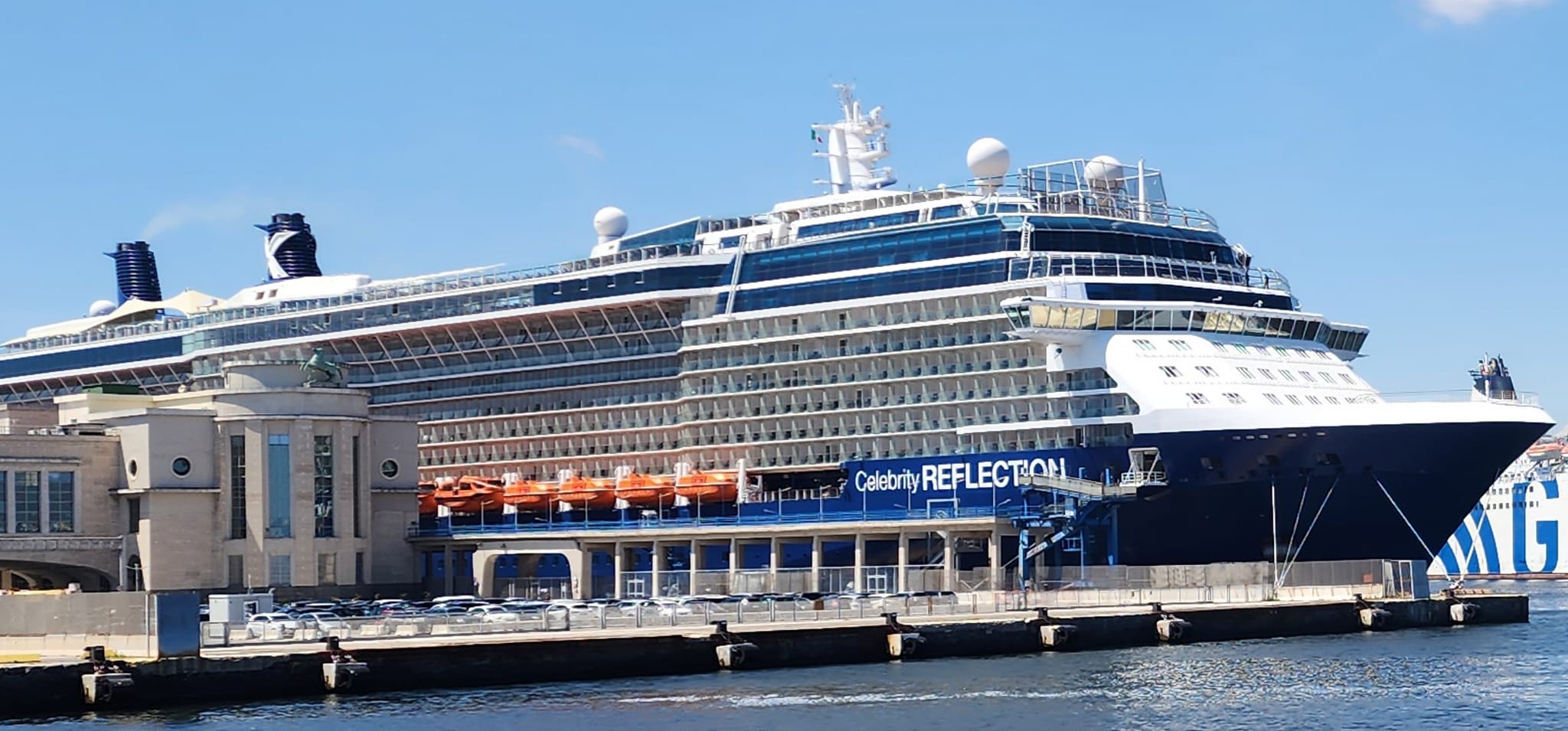 Also it is very important to know which terminal your cruise ship will dock at if you will be returning back to the port of Piraeus with a taxi.
It can make the whole process of your return to the ship much quicker if your taxi driver knows which terminal to drop you off at.
If your cruise director doesn't know which terminal you will be docked at in Athens, you can always go to the purses desk/reception and they can find it out for you by calling the ship bridge.
There are three terminals in the Port of Piraeus that are most likely for your cruise ship to dock at: Terminal A, B or C.
1) TERMINAL A – This terminal is right by the main cruise terminal building where you will find a duty-free shop (which you can shop in before your return back to the ship), a café with Wi-Fi internet service and a couple of small souvenir shops.
As you walk outside the terminal you will be swarmed with taxi drivers, but before you take a taxi to Athens read our taxi in Athens tips here.
If you are on one of the cruise ship-organized Athens tours, your shore excursion staff will walk you to the excursion buses parked in front of terminal A.
Terminal A is much closer to the Piraeus metro station and should be your departure point towards it even if you are docked at Terminal B or C. I'll explain how to get from Terminal B and C to Terminal A in the text below.
2. TERMINAL B:  This terminal is much further from the Piraeus metro train station.

That is why, if you will be walking to Piraeus train station, you want to get to Terminal A first.
You can do that by taking one of the free cruise port shuttle buses that will depart from in front of your cruise ship approx. every 10-15 minutes.
We do not recommend walking between the two terminals. The distance is too far and it is not a safe area to walk in.
If you wish to take one of the taxis into Athens, you can do that right in front of the terminal B building too. You don't need to take the bus to terminal A!
When returning to the cruise ship at the end of the day, you can find the port buses from terminal A to terminal B by the Duty free shop exit.

When returning to the cruise ship by taxi, remember to stress to your taxi driver if your ship is docked by terminal B.
If you will be taking one of the cruise ship organized tours from Terminal B, there's nothing to worry about. The shore excursions staff will walk you to the buses right in front of the terminal B building and this is where you will be dropped off at the end too.
There are no duty free shops or cafes inside the terminal B building.
3. TERMINAL C is located between Terminal A and B.
It is also connected with the main terminal building with a free shuttle bus that operates inside the port. When coming back to the ship with a taxi, tell your driver to drop you off at terminal A and then take the free shuttle to your ship.
---
Is there a free shuttle from Piraeus port to Athens Center?
Some cruise lines do offer free shuttle services from Piraeus to the center of Athens (usually to a central location like Syntagma Square or Monastiraki Square).

These shuttles are provided as a convenience for cruise passengers to easily access the main attractions and shopping areas in Athens.
However, this a free shuttle is more an exception than a rule, so be prepared to doublecheck with your cruiseline and be ready to plan your transportation from Piraeus to the centre of Athens.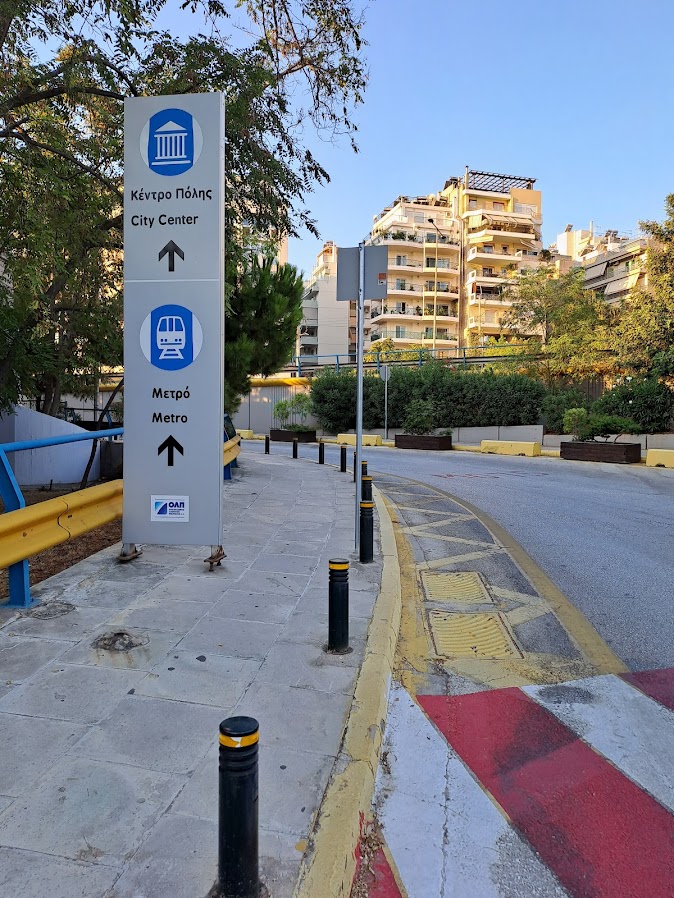 Follow the signs to get out into the main waterfront street of Piraeus. There you can catch the express bus X80
---
How can you get from the port of Piraeus to Athens city center?
How far is the port of Piraeus from Athens city center and how can you get there?
Piraeus is located approximately 10 kilometers (6.2 miles) southwest of the city center of Athens.
The duration of the ride between Piraeus and Athens can vary depending on traffic conditions, the mode of transportation, and the specific route taken.
Here are some estimated travel times for common modes of transportation:
1. Shared shore excursions: a portion of cruisers will go with the shore excrusions offered onboard the ship (the selection is basic and you pay for the convenience of booking onboard), but many will do their own private arrangements with one of the trusted tour platforms like Viator. Just like with the regular bus, the ride will be somewhere between 30 minutes to an hour (depending on the time of the day, season and many other factors).
Here are some of the best rated and most booked shore excursions (shared ones) that will take you to major Athens sights:
2. Metro: The Athens Metro Line 1 (Green Line) connects Piraeus with central Athens. The journey takes around 20-30 minutes, depending on the specific stops and any transfers required. You can read more in my article Getting from Piraeus to Athens by train.
3. Taxi: A taxi ride from Piraeus to central Athens typically takes around 20-30 minutes, depending on traffic conditions. It's important to consider that traffic congestion during peak hours may affect travel times.
There's also another thing: taxi drivers waiting at and around the Piraeus cruise port will not be willing to give you a ride to Athens and leaving you there. They are looking to take you for a whole day arrangement where they act like your tour guides. Which they are not. Also, there may be a language barrier, too.
So, if you are just looking for a taxi service, I suggest to book it online:
---
IMPORTANT TIP:
If you are wondering: How much is a taxi from the port to Piraeus metro train station? I must disappoint you:
You cannot take a taxi from the Piraeus port cruise terminal to Piraeus metro train station. Taxis waiting in front of the cruise terminals are interested in taking you to the Acropolis exclusively! Read more about using taxis in Athens
---
If you would like to have your own, private tour guide (which would maximize your time and your experience), go with one of the professionals!
With at least three big cruise ships in the port of Piraeus every day, these guys get sold out, so make sure to book them in time!
---
4. Bus: Bus routes operate between Piraeus and various parts of Athens. The travel time can range from 30 minutes to an hour or more, depending on the specific route, traffic, and stops along the way.
Please note that these travel times are approximate and can vary based on the factors mentioned above. It's advisable to allow some extra time, especially during peak traffic hours, to ensure you arrive at your destination on time.
Here are the two bus services that most cruise passengers will take:
Besides local public transport, there are also Hop-on, Hop-off types of buses available and departing from the port of Piraeus. Here's the best ones for you...
RELATED ARTICLES:
From PORT OF PIRAEUS to Mediterranean Cruise Ports Easy
HOME PAGE
Have A Great Story About This Topic?
Do you have a great story about this? Have you been to this port of call? Have tried out any of the shore excursions I recommend? Do you have any tips that might help your fellow cruisers? Share them with us!