Vaporetto basics for
Mediterranean cruisers
"Vaporettos or water buses are elongated boats that used to be run on steam in the past" 

Why use a Venice vaporetto?
When it comes to water buses, there are two main reasons why you would use this kind of Venice transport and incorporate it into your cruiser's limited day: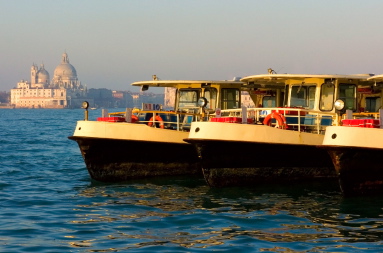 To find out more about how to go about using these boats as a means of getting you into Piazza San Marco from the cruise ship, read our article on Venice Vaporetto.
In this article we're going to talk about water buses in general and show you how to go about using vaporetto in Venice.
---
What is a Venice vaporetto?
After years or working on cruise ships and advising people on how to go about getting around La Serenissima, we have noticed something interesting: first time cruisers to to this popular cruise destination tend to call ALL Venice boats - water taxis!
If you're making the same mistake, here's a few tips on how to discern water buses from Venice water taxis and when to use which:
Vaporettos or water buses are elongated boats that used to be run on steam in the past and are:
a public means of transportation in Venice which have pre-designated stops, routes and times of departure (just like local buses do in any other land city)
bigger boats that can take on more than a hundred people at a time
much more affordable than water taxis
To find out what makes water taxis different from any other Venice boats, read our article Venice water taxi
---
Where can I catch a Venice water bus?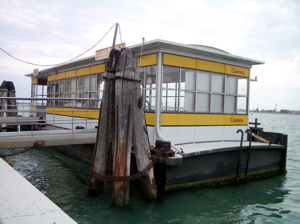 There are numerous stops around the city and you will recognize them by a yellow line with the name of the particular stop on them. They are mostly run by the ACTV company.
All water bus stops have a floating landing against which boats will dock once they arrive.
Some stops will have more than one landing and you will need to verify which one to take by looking at overhead indication boards or electronic displays that tell you in how many minutes the boats arrive.
As you are boarding the boat check with the on-board attendant in which direction the boat is headed, too. Usually, they will be shouting out the final destination of the vaporetto anyway.
---
Where to buy a Venice vaporetto ticket or pass?
You can buy Venice water bus tickets or passes at ACTV water bus ticket booths. You will find them at any major vaporetto stops that you as a Mediterranean cruise ship guest are most likely to use (San Marco, San Zaccaria, Piazzale Roma etc...).
If you happen to find yourself at a water bus stop whose ticket booth is closed (it often happens on the isle of Murano), you can check in the closest tobacco shop (tabacchi) or ask to purchase one as soon as you get onboard the boat.
If you purchased your ticket or pass at the ticket booth, don't forget to validate it on the electronic card reader before your first ride. You don't need to punch your card. Simply slide it against the screen until it shows a green light.
---
Venice vaporetto tickets, fares and prices
Regular single water bus ticket is €7.50 per person. It is valid for 75 minutes (it includes one piece of hand luggage) In that time you may change lines but not take a reverse direction.
The other water bus tickets that might be of interest to you as a cruise guest in Venice are:
24 hour pass for €20 
48 hour pass for €30 etc.
You can pre-purchase these ACTV Tourist Travel Cards online, too. You will get a code and print the actual tickets out at the ACTV ticket machines in Venice without waiting in lines. Read how to go about it on the useful Veneto Inside website.
However, as a cruise ship passenger, do not rush to spend money on these multiple use passes before you make an exact plan of where you will be going on the days of your visit to Venice and when.

Remember, this city is perfectly walkable on foot and you can reach every church, museum and historical sight within the center of Venice by walking.
Cost of water bus passes for multiple use will pay out only if:
You will be using water buses as a way of getting to and from the cruise ship (from or to Piazzale Roma, preferably if you're staying in Venice over night).

You will be visiting the islands in the Venice lagoon (eg. Murano, Lido, Burano) on your own.
---
Venice vaporetto routes and lines
ACTV Venice water bus routes are organized into an easy to use system with three main types of lines:
CITY CENTER ROUTES - along

Venice Grand Canal

. The most popular one with the Europe cruise guests is line #1 which zig-zags between stops on the Grand Canal.

It's sluggishness might be annoying for all the commuters on their way to work - the longer it takes, the less time they have for their first morning espresso. But for you, it will be just perfect as it gives you just enough time to take photos of all the beautiful palaces you will be gliding past.

CITY CIRCULAR ROUTES- around the main Venice islands and to Murano or Lido islands
LAGOON ROUTES- use them to reach Burano or Torcello island.
---
Venice vaporetto timetable
If you are a cruise guest visiting Venice for a day or two and using water buses during daytime, you won't really need water bus timetables. They normally leave every 15-20 minutes.
But if this port is where you embark or disembark your cruise ship and you are arriving/departing from early in the morning or late at night, you can find the Venice water bus timetables here. Just make sure you know the exact name of the water bus stops you will be departing from and going to.
---
Deals on Hotels and Shore Excursions:
Hotels in Venice - HotelsCombined.com allows you to instantly search and compare room availability and prices from all major travel websites!
Viator Venice Tours and Shore Excursions - Compare prices to the ship offered shore excursions and book your own tours online!
---
Like This Page?
---
RELATED ARTICLES
---
VENICE ITALY ARTICLES TABLE OF CONTENTS
From VAPORETTO to Mediterranean cruise ports easy
HOME PAGE