Venice traghetto - cheap gondola Venice ride for Europe Cruisers
"Venice Traghetto...how to save big on a Venetian gondola ride and still show off Venice gondola pictures back home"

Using a Venice traghetto definitely falls into the category of big MONEY SAVING TIPS of Mediterranean Cruise Ports Easy, and we're happy to share it with you!
So, you want to enjoy your European cruise vacations without breaking the bank!
But, you're not coming back home without a picture of you in a gondola either!
Now, listen carefully Med cruisers, because we're about to share a little trick with you:
In Venice there are these little boats called traghetti. They look exactly like Venice gondolas but they are not here for tourist's fun.
Their use is strictly practical: they are used by locals or people in-the-know that need a ride not down the Grand Canal but…across it!
Venice Traghetti are not available just anywhere...they have their stops and run strictly between stop A and stop B on the Grand Canal.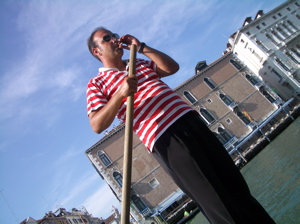 Let's say you are on the water front by the Doge's Palace…you're looking across the canal at the beautiful domed La Salute church and you really want to go there! Hmmm…but how?
Cross the bridge? There are only 4 bridges across the whole Grand Canal and you don't feel like walking for 20 minutes to the closest one.
Venice Vaporetto? Wrong answer, again. To pay €6.50 just to cross the canal doesn't make sense!
The answer is a Venice traghetto. For only €2,50 per person, you can both cross to the other side of the Grand canal in a matter of minutes… and you can pretend you're having a romantic gondola ride.
---
Where to get Venice traghetto closest to
St. Mark's square?
For cruisers who don't have much time to explore around but would like to have a quick traghetto ride, here's the instructions on how to reach the strong traghetto line closest to Piazza San Marco:
walk down to the bottom of St. Mark's square (with St. Mark's basilica behind you)
go through the passage in the left corner (past the Tourist Information center)
go past the Chanel & Louis Vuitton boutiques
walk down the Sal S. Moise street (past the recently closed American Express office)
cross the bridge, then past the Ferragamo/Gucci boutiques (calle Larga 22 Marzo) until you reach the second bridge.
immediately after the bridge, on the little square, turn to your left towards the canal.
you should be on the Campo Traghetto. The Traghetto will leave from the small wooden pier on the Canal.
These guys are shuttling back and forth across the Grand Canal every 5 minutes and will charge you a mere €2,50 per person each way!
That way a 4 member family gets to have an exciting little ride across the Grand Canal for only €10, which leaves more money for souvenir shopping!
You don't need to purchase tickets ahead of time, you will pay the gondolier as you exit the boat.
They will drop you off in between the Peggy Guggenheim Collection museum and La Salute Church, but the Accademia Gallery is not far from here either.
You can come back across the same way with the traghetto, or walk to the Accademia Bridge to take some more photos overlooking the Grand Canal.
There are other Venice traghetto cross points (7 altogether) along the Grand Canal and they are marked on any better Venice map with a letter T and a broken line.
Keep in mind it's customary for the locals to stand in the traghetto but if you're not that skilled, feel free to sit down!
Enjoy the experience and feel free to brag about your Venice traghetto discovery at your dining-room table that night!
---
Deals on Hotels and Shore Excursions:
Hotels in Venice - HotelsCombined.com allows you to instantly search and compare room availability and prices from all major travel websites!
Viator Venice Tours and Shore Excursions - Compare prices to the ship offered shore excursions and book your own tours online!
---
RELATED ARTICLES:
---
Like This Page?
VENICE ITALY ARTICLES TABLE OF CONTENTS
From VENICE TRAGHETTO to Mediterranean cruise ports easy
HOME PAGE