Sorrento Italy Weather
"Sorrento Italy Weather tips for cruisers: what time of the year to take a Sorrento train and when is the ferry a better choice?"
Located on the south west coast of Italy, in the region of Campania, more precisely on the Sorrentine peninsula, the town of Sorrento has a typical Mediterranean climate, which is a good base for nice Sorrento Italy weather.
The mild and warm climate generally makes it a nice place to visit any time of year.
However, if you're not job or school bound and you can choose the time to take a Mediterranean cruise to Sorrento Italy, and you do mind about Sorrento Italy weather, we suggest you choose Spring time months of March, April, May.
In these months, there's already plenty of sunshine but it is not too hot! Just perfect, especially if you will be visiting Pompeii Italy and Herculaneum and spending lots of time out in the open.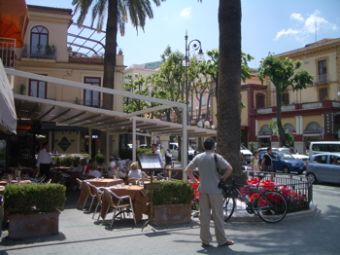 Otherwise, make sure you're wearing a hat and always have a bottle of water with you, to protect yourself from harsh summer Sorrento Italy weather and sun.
June, July and August are the hottest months of the year. In August, it is very usual for the temperatures to climb over 30°C / 86°F.
So if you are taking a Sorrento Italy train in these months, we have to warn you, there isn't any air-conditioning on them. On the contrary, if you decide to use a Sorrento ferry, its cool air-conditioning will bring you a lot of relief on a hot summer's day.
August is not only the hottest summer month when it comes to Sorrento Italy weather, it is also the 'crowdiest'. That is the time of year when the whole of Italy goes on vacation, the so called Ferragosto.
That's why you will see lots of Italian families visiting Capri, Pompeii and Sorrento too… waiting in lines to buy hydrofoil tickets or take a funicular, you will have a chance to listen to their always dynamic discussions.
September is a good month to visit Sorrento too. However, in October and November, expect a lot more rain and wind. So if you planned to take a Sorrento ferry hydrofoil around the Bay, make sure you take a seasick pill ahead. Even if you don't get seasick onboard your Mediterranean cruise ship! And, even if it seems the sea swells just a bit!
Sorrento and Capri ferry hydrofoils are much smaller boats and up to 90% of people will get nauseous. At that time of the year, it is a pretty common sight to see the boat attendants handing out dozens of plastic bags.
So, if you're not visiting Capri Italy, but only Sorrento, this is the time of year to take the Italy Sorrento train.
All in all, we're pretty sure you will have some really good Sorrento Italy weather, so typical for this part of Italy, and enjoy your Sorrento attractions sightseeing, espresso sipping or shopping!
Sorrento Average Temperatures:
January:
12°C / 54°F
5°C / 41°F
February:
12°C / 54°F
6°C / 43°F
March:
15°C / 59°F
7°C / 45°F
April:
18°C / 64°F
9°C / 48°F
May:
22°C / 72°F
13°C / 55°F
June:
26°C / 79°F
16°C / 61°F
July:
28°C / 82°F
18°C / 64°F
August:
29°C / 84°F
19°C / 66°F
Sept:
27°C / 81°F
16°C / 61°F
October:
22°C / 72°F
12°C / 54°F
Nov:
16°C / 61°F
8°C / 46°F
Dec:
12°C / 54°F
5°C / 41°F
Sorrento Weather Forecast 10 days:
Sorrento Weather Forecast, Italy
---
Deals on Hotels and Shore Excursions:
Hotels in Gulf of Naples - Planning to stay in or around Naples? HotelsCombined.com allows you to instantly search and compare room availability and prices from all major travel websites!
Viator Bay of Naples and Amalfi Coast Tours and Shore Excursions - Compare prices to the ship offered shore excursions and book your own tours online!
---
Like Sorrento Italy Weather Page?
---
RELATED ARTICLES:
SORRENTO ITALY ARTICLES TABLE OF CONTENTS
From SORRENTO ITALY WEATHER to Mediterranean cruise ports easy
HOME PAGE