Travel to Florence - Travel Tips and Train Guide for Firenze Italy Cruise Vacations
Travel to Florence -  we will give you detailed instructions and tips on how to get from Livorno cruise port to Livorno train station and into Florence on your one-day-only cruise vacation visit...
If you have read about all the options of getting to Florence from the cruise ship dock in Livorno, Italy and decided that you want to travel to Florence by train, you are in the right place to find out more.
Here at the Mediterranean Cruise Ports Easy we will give you a little Florence tourist travel guide, detailed instructions on how to get from Livorno cruise port to Livorno train station, and how to plan your day in port, especially if you're staying in Florence, Italy for one day only, as you don't want to miss the ship.
After reading this article you will be ready to travel to Florence by train and nothing will be able to surprise you… except for maybe an unexpected train strike?! :)

Italians are famous for loving their train strikes… if they had a fight with their mother-in-law the night before, they might just decide to strike the next day. If their wife didn't make their favorite pasta for dinner, they might decide to strike. If their espresso that morning wasn't strong enough… they might just decide to strike. ☺
Ok, we'll stop scaring you… don't worry, we have done the train thing at least about 20 times in our cruising history and we have never experienced a strike when it comes to travel to Florence. But if your Captain/Cruise Director on board the ship does announce it (if they do) be ready for a travel to Florence plan B. Of course, you do know it's possible to get from Livorno to Florence by bus, right? And we're not talking about local public transportation but a special service that caters to cruisers only!
So let's see how to go about traveling to Florence by train, if you still want to stick with that. There are two different ways you can reach the train station from the ship…
Travel to Florence - getting to Livorno train station with the Port transfer bus and local bus
Getting to Piazza Grande square in Livorno is the first step of getting to Livorno Centrale train station, unless you are taking a taxi from the dock straight to the train station, in which case you can scroll down to the next subtitle.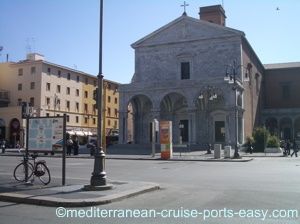 Every cruise line will have organized Port transfer buses to Livorno Piazza Grande, as walking through the Livorno industrial port, where the big cruise ships dock, is forbidden and walking is NOT an option.
You can acquire the tickets for this service on the ship (most cruise lines will have a charge for this service) or have it charged onto your cruise card directly at the bus which will be parked in front of the ship.
We recommend to have it purchased onboard ahead of time, that way you will make the line run smoothly, without unnecessary fiddling with cruise charge cards, papers and signatures.
Namely, these Port transfer buses are known to be quite relaxed about the times of their departure, and don't really care whether you have a train to catch in 20 minutes. So the quicker the people get on it, the sooner it departs and makes the Florence Italy travel a more comfortable experience for everyone.

Most often they will wait until all the seats on the bus are taken. And obviously, that will depend on the number of people trickling off the ship in the morning.

In our experience, this

Port bus will not start operating before 8am. So, if you're one of the first people off the gangway as soon as your ship docks at 7am and are eager to catch the 8:11am train to Florence… you will only be able to do so if you take a taxi straight to the Livorno Centrale train station.
If you only have one day to spend in Florence we recommend you don't catch any train later than 9:10 am. That is the latest time when it comes to travel to Florence.
That means you will arrive at the Florence train station around 10:30 am. By the time you grasp your bearings and get to the Florence Duomo or

Piazza Santa Croce in Florence

, the two usual points which you can start your exploring from, it will be about 11am.

To get back to your ship in time and with no stress, we recommend you take the 3:27pm train if you'll be using the Port transfer bus to get back to the ship.
Or, the latest, the 4:27pm train if you will be taking a taxi back to the ship from the Livorno train station.

That will give you 4 ½ or 5 ½ hours in Florence which isn't much with so much to see and do.
Before your travel to Florence, check all of the departure times and arrival times at the official Trenitalia site.
TIP

: If you have a certain train time schedule in mind to catch, when it comes to travel to Florence, make sure you are on the Port transfer bus to Piazza Grande at least one hour and 15 min earlier than that specific time.

As mentioned above, departure times of the Port buses are very irregular and depend on the number of people getting off the ship. Sometimes you can wait up to 30 minutes before the bus actually leaves the dock. Add 15 minutes for the actual drive to Piazza Grande, 5-10 minutes wait for the local bus, and you'll be at the train station just in time to get your ticket, validate/stamp it in the little yellow machine and jump on the train!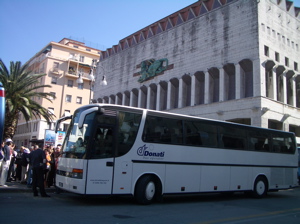 TIP: Before you leave the Port Bus make sure to ask the staff what time the last bus is back to the ship that night! Often times, that is one hour before the all aboard time! That way you will be sure which train to catch on your return!
But let's get back to getting to the train station if you still want to do it on your own:
From this point on, speed is essential! Especially if you see the time of your train departure is getting closer.
Quickly cross to the other side of the street and walk back up the street the bus just came down! After just a few short steps, you will see a little tobacco shop (Tabacchi) on your right hand side… beat the crowds and purchase your local bus tickets here for approx. €1 per person one-way.
Technically, you can buy your train tickets here as well, which would save you a few minutes at the train station, but once we tried it and realised the charge was higher than buying the ticket directly at the train station.
Keep in mind your one-way ticket charge from Livorno Centrale train station to Florence is approximately €10.40 per person one-way. Compare the price and get your ticket here if it is the same.
If you are not one of the first people off the Port bus and there is a long line by the Tobacco shop already, head straight to the square and buy your local bus ticket here at one of the news-stand kiosks.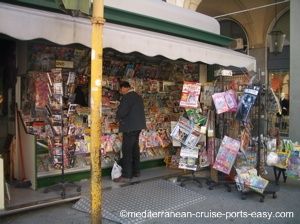 Now see where McDonalds is, turn your back to it and cross the street over to the other side! This is where the second part of your travel to Florence starts: using the local bus #1!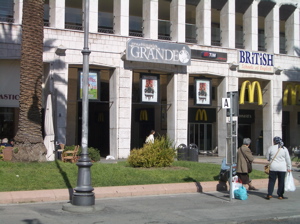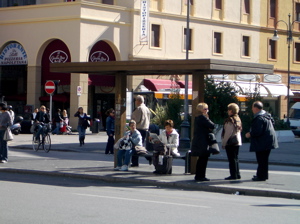 Buses are quite frequent, every 7-10 minutes. Once you get on the bus (#1), validate your ticket in the machine. The ride to the Livorno Centrale train station takes about 10 minutes, depending on the traffic.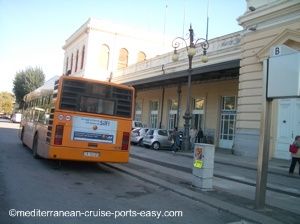 TIP

: Have €uro cash ready for the transaction!
If your time is tight (about 10-15 minutes before your train's departure)… when I say run to the ticket booth,literally run! We have often seen people not get on the train and get stuck at the train station waiting for the next train.
As trains leave only once an hour, you will be losing one whole valuable hour of your short day. If that happens to you, we recommend taking the first train to

Pisa Italy

(which is only 15 mins ride away), taking a quick taxi ride to

the Pisa leaning tower

, taking a few shots and getting back to the Pisa train station in time to catch the next train or one of the trains that depart straight from Pisa to Florence.
Once you have gotten hold of your tickets, head for the platforms and on the way there (still in the train station building or just outside on its facade) find a little yellow box and stick your ticket inside to get it validated/stamped.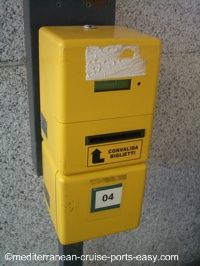 If you are a couple and you are buying return tickets, you will be issued two pieces of paper. The first one will be for both of you in one direction. And the other one will be the same… for 2 people coming back. So don't stick both tickets in the validating machine thinking each one is for one person. Check only the one that says:
Partenza (Departure): Livorno Centrale
Arriva (Arrival): Firenze SMN
If you don't validate your tickets before getting on the train, it is as if you don't have them at all… they are worth nothing and you will be fined if approached by a conductor.

Now, head for the stairs down through the underground passage that will take you to the platform you need. You can check the platform number at the Departure board.
Ok, this was the last little bit of stress, I promise… once you get on the train (be equally quick and don't be too fussy with seats or you might not get one at all!) you can finally relax for about an hour and 20 minutes because that's how long the ride will be!

Enjoy the (not so scenic) vistas or listen in on your fellow cruisers in the compartment behind you bragging about their past cruise conquests. We promise you, all you will hear on the train is English as there will be dozens of people doing exactly the same thing you're doing!

As your train approaches Florence, you will NOT get off at the first stop bearing the name Firenze. You will get off at the second stop (and final stop) which is Firenze S.M.N. or Firenze Santa Maria Novella.
If, for some reason you did not purchase return tickets back in Livorno, now is the time to do it. Do not leave it for later in the afternoon when you return to the Florence train station as the line can be very, very long and you'd risk missing your train. So, have your return tickets in your pocket first thing in the morning!
To find out more about Italian trains in general at Italian Trains basics
---
Travel to Florence - Getting a taxi from the Livorno cruise dock to the train station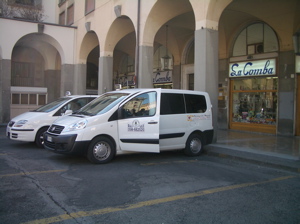 Taking a taxi is the right solution for you and can really speed up your travel to Florence Italy!
As we have already explained, Port transfer buses to Piazza Grande in Livorno are very relaxed about their departure times. Usually, the first one is only at 8am.
So, if you are one of the first people to get off the gangway at 7am, as soon as your cruise ship gets cleared and sets up the gangway, and want to catch the 8:11 train to Florence… you might be in for a cold shower on a perfectly sunny Tuscan day.

This can be extremely stressful if you have your tickets booked at the Uffizi Gallery or the Accademia in the morning, or if you have arranged to meet some friends or family in Florence.

In that case, do not save on taking a taxi when it comes to travel to Florence… it can save you up to 45 minutes when it comes to getting to the train station.
As you get off the ship, the first thing you'll see will be taxis that are looking to take you for a whole day tour. Do not waste your time with them, you will not persuade them to just take you to the train station.
But… if you head a bit further away from the ship (just a bit, remember you're not allowed to walk around the dock) you might be able to find some local taxis that will be willing to take you to the Livorno train station.
They normally ask for €25 per taxi to the train station. So, if you are a couple, you will either have to cash out for 4-5 people or arrange with another couple beforehand to share the taxi.

So, the night before arrival ask around, maybe someone from your dining room table party might be willing to share.
So you better be ready and organized to spare some time on haggling for the taxi, or waiting for others to share it with you.

If you think all of this is too complicated and stressful, check some of our shore excursion suggestions...
RELATED ARTICLES:
From TRAVEL TO FLORENCE to Mediterranean Cruise Ports Easy
HOME PAGE