Visiting Pompeii - Naples to Pompeii from the Cruise Dock
"Visiting Pompeii - there is a way to reach the ancient city of Pompeii and its ruins for every budget: from Pompeii tours to using a train..."
Being Mediterranean cruise guests on a ship calling to Naples, Italy, you will have an opportunity of visiting Pompeii, one of the most popular archaeological tourist sites in Italy and Europe in general!
To be more precise, you will be one of the 2,6 million that visit Pompeii ruins every year!
The fact that the ancient city of Pompeii, in Roman times a wealthy resort town and a busy port, is only 15 miles away from the port of Naples, makes this port the most suitable base for visiting this museum in the open in the shadow of Vesuvius Volcano.


So if you are one of the Mediterranean cruise guests wondering how to get from the port of Naples to Pompeii excavation site, this travel guide will help you...
There are a few ways you can get from Naples to Pompeii. Just keep in mind that, as opposed to the other Bay of Naples destinations, like the isle of Capri or the town of Sorrento Italy, which are accessible by hydrofoil boats from the port of Naples close to where your cruise ship is docked, Pompeii is accessible by land transportation means only!
But before you start planning visiting Pompeii and your transportation from Naples to Pompeii, make sure you plan the rest of the day in the Bay of Naples and decide on how much time you will be spending on the lost city of Pompeii.
Naples is one of the Mediterranean ports that have quite a few attractive destinations to see in its vicinity and you should try and combine at least two of them in your day.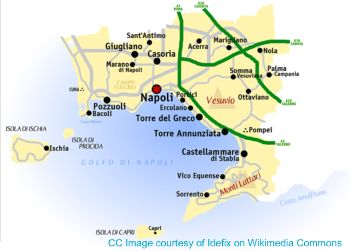 If you leave your ship first thing in the morning, as soon as they lower the gangway (and Naples is the kind of port to do exactly that), you should be able to see at least two points of interest in a day.
In other words, we think it is not necessary to dedicate the whole day to the exploration of Pompeii only. Although, at least 2 hours will be needed to get the feel of the place!
See more info on what other destinations to combine with your visit to Pompeii in our article A Cruiser's Day in the Lost City of Pompeii.
---
Visiting Pompeii: Transportation
1. Getting from Naples to Pompeii by train: this is the cheapest way! You can practically take a whole small family there and back for less than €20! Read more about using the train in our article Naples to Pompeii by train.
2. Getting from Naples to Pompeii by taxi: As you walk out of the Naples terminal building you will immediately be surrounded by a bunch of taxi drivers wanting to take you for a day trip around the area.It is going to be a bit more difficult to just find one to take you to Pompeii ruins and leave you there. It would be too little of a fee for them, they are hoping to take you for a 6-8 hour tour and be your private guides around Pompeii, Sorrento, Naples, possibly even take you to a Cameo or inlaid-wood factory...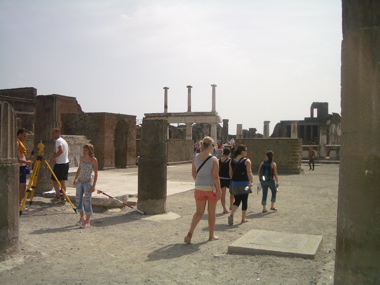 As they don't use the taxi meter, what you'll pay depends entirely on your negotiating skills. You will be asked anywhere from €200-400 per taxi.
Click here to see the Naples Italy map of the Naples cruise terminal area
3. Getting from Naples to Pompeii by hiring your own driver online. If you are anything like me, you don't want to get frustrated trying to get a fair-priced taxi ride on the very morning of your arrival in Naples.
That's for people who couldn't get bothered to get things organized in advance. And just judging by the fact you're reading this, you are not one of them.
That's why I am happy to share with you what I've just found on Viator, our trusted transportation/shore-excursions partner: Round-Trip Shuttle Transfer from Naples to Pompeii, starting from only $29.17 per person (depends on the time of day you pick)! Bingo!
This is what you'll get for your money if you opt for this 4 1/2 star service everyone is so happy about:
No stress of trying to follow directions to the train station

Choice of several departure times throughout the day (morning and afternoon)

Free pick-up and drop-off at the port

Shared shuttle service to Pompeii and back

Freedom to see the famous site at your own (it's advisable to book your tickets on line so you don't have to wait in line)
Freedom to see it with one of the recommended Skip-the-line guided tours (that start inside the site of Pompeii). 
Here's what some people say about this service, just recently added on Viator: 
'Comfortable ride, on time. Definitely recommended.'
Carol, the USA
'Our driver was not only on time, but early to pick us up for the shuttle to Pompeii. He was friendly and helped us book another shuttle to the train station for the next day. I would absolutely book this shuttle again.'
Shannon, the USA
So, how do you book? First of all, do it as soon as you find out you'll be visiting Pompeii. With many ships in port on the same day, these kind of really affordable services do sell out quickly. Now click on the photo below to pick your exact time and date: 
---
4. Getting from Naples to Pompeii by one of the cruise shore excursions: you will do this if you like to play it safe. Price-wise, it's much more expensive than taking a train. Time wise: you're much more limited as to what activities you want to do, where and for how long.
Good sides: you're guaranteed to return to the ship on time and you're getting an authorised tour-guide's commentary when visiting Pompeii. Definitely recommended if you would like to see three of the most attractive destinations in the area in one day: Capri Italy, Pompeii and Sorrento Italy. Doing this on your own would take some planning and a lot of discipline.
---
RELATED ARTICLES:
From VISITING POMPEII to Mediterranean Cruise Ports Easy
HOME PAGE